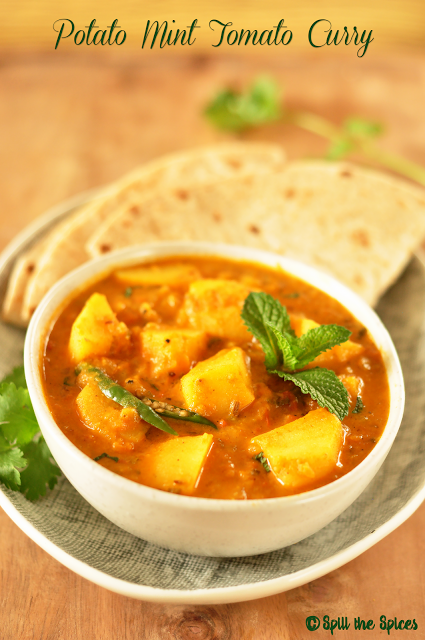 The base of of most of our daily curries we make for roti/chapathi is the same - the simple and humble onion-tomato with regular Indian spices like coriander powder, chilli powder and garam masala. Even though the vegetables in these curries are different each day, sometimes we get bored of these curries as they still taste almost same! Some days I experiment by tweaking the ingredients to give a different flavor. Today's recipe is about one such experiment which has now become a family favorite.
Potato tomato curry or Aloo Tamatar is an easy curry that we all make often to serve with roti or poori.  Instead of using the regular Indian spices, I used curry powder and pepper powder which added a different taste to the curry. The addition of mint gives a freshness and nice flavor to the curry. Coconut milk powder is optional, but it gives a slight sweetness and balances the flavors. This is a one pot dish that takes less than 30 minutes to cook. This curry goes well with roti, poori, jeera rice (cumin rice) or pulao.

POTATO MINT TOMATO CURRY RECIPEIngredients:
1 tablespoon oil
1 teaspoon cumin seeds / jeera
1/4 teaspoon fennel seeds / sombu
1/4 tsp asafoetida / hing
2 tsp ginger garlic paste
1 medium onion, finely chopped
3 medium tomato, chopped
3 green chillies, slit
20 mint leaves, finely chopped
1/4 teaspoon turmeric powder
2 large potato, chopped into large cubes
1 1/2 teaspoon curry powder
1/4 teaspoon black pepper
1 tablespoon coconut milk powder (optional)
Salt to taste
Method:
1. Heat a pressure cooker and add oil. When oil is hot, add cumin seeds, fennel seeds, asafoetida and let it sizzle.
2. Add the ginger-garlic paste and fry for a minute. Then add onion and fry till the onions turn golden brown.
3. Add the tomato, green chillies, mint leaves, turmeric powder and cook till the tomatoes are soft and mushy.
4. Now add the potatoes, curry powder, black pepper, salt , 1 1/2 cup water and combine. Cover and pressure cook for 2 whistles.
5. Add the coconut milk powder and cook for another 1-2 minutes. Remove from heat and add the coriander leaves.
Serve hot with roti/poori or pulao.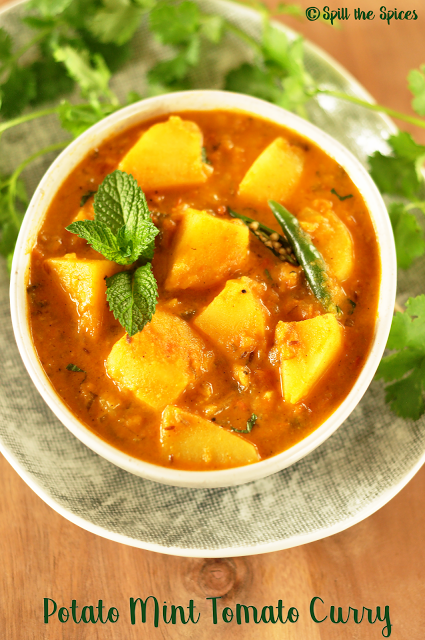 Notes and Tips
Curry powder gives a unique flavor to the curry. If you do not have curry powder, substitute with 1 teaspoon coriander powder and 1/2 teaspoon garam masala.
Coconut milk powder enhances the flavor of the overall curry, but if you don't have coconut milk or powder you can skip it.
Reduce the amount of spices and chillies for a milder curry.
You can also make the curry in a kadai or pan. Add boiled potatoes to the onion-tomato mixture and water as required.
If you want thick curry or if curry is watery, mash some of the potatoes and cook for few more minutes.