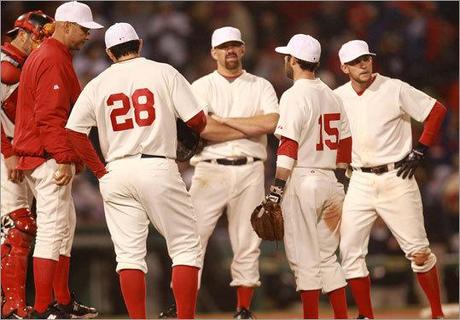 On second thought, maybe I should thank Fox I missed Saturday's Red Sox-Cubs game.
I got home in time after softball to put on the radio with the Red Sox holding a 3-1 lead. Alfredo Aceves gave the Sox five solid innings and David Ortiz deposited a Carlos Zambrano pitch into the Monster seats.
Then came a shitstorm of an eighth inning. Eight Chicago runs, three Red Sox errors (I am beginning to believe Jed Lowrie isn't a fulltime MLB shortstop), a big meltdown by Matt Albers (who has been generally good so far) as Daniel Bard got the night off after having a heavy workload the last few weeks.
The Red Sox would have gone into first place had they held the lead and won.
I finally got a chance to see the throwback uniforms on the ESPN highlights after the game was over. As Allan points out at Joy of Sox, they weren't the 1918 uniforms per se, but some of the Red Sox players liked them.