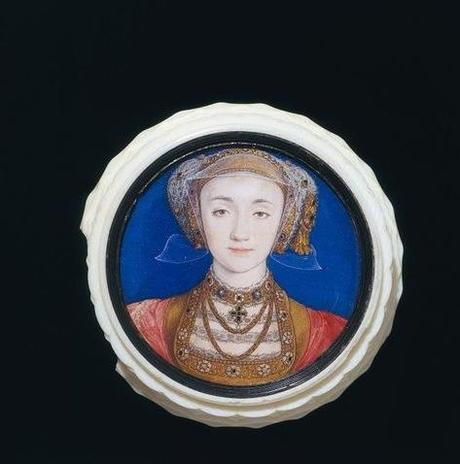 Anne of Cleves, Hans Holbein, 1539. Photo: Victoria and Albert Museum, London.
I've always had a sneaking fondness for Anne of Cleves – partially because she seems like she was a good sort of woman but also because she had to put up with that ghastly idiot Henry VIII going about the place telling everyone how much he didn't fancy her. I really sympathise with this as I had an ex like that as well.
On the other hand, once the marriage was dissolved it seems like Henry and Anne got on like the proverbial house on fire and that he even gave her some plum properties including Hever Castle (which had been wrested from the clutches of the now completely fallen Boleyns), beautiful Penshurst and Richmond Palace. I'd say she was actually a really fortunate lady – independent, wealthy and treated with proper reverence at court yet in no danger of trading any of this against the danger of childbearing. I'm almost tempted to think that she might have been something of a role model for her step daughter, Elizabeth with whom she seems to have had a genuinely very fond relationship.
Lovely Anne was born on the 22nd September in 1515 (which is in two days time but as I'm away then you can have her now – this being portrait OF THE WEEK after all) and is a natural choice for portrait of the week as if Henry and his cronies are to be believed (which they aren't) then she was the inventor of the original overly flattering portrait. It's not a selfie, obviously, because it was painted by Hans Holbein but I suppose she set a worthy precedent for presenting oneself in a way that may perhaps be considered rather more attractive than the reality.
I don't believe a word of it though. Unlike plenty of other portraitists that I could mention (*cough* Elisabeth Vigée-Lebrun *cough*), Holbein doesn't seem to have been much given to flattering his sitters and seems to have been quite happy to present them in all their wan cheeked, big nosed, hollow eyed glory. I therefore can't really see him provoking what promised to be an international controversy by making Anne look more attractive than she actually was.
This is a delightful miniature portrait though and is most likely contemporary with the better known portrait (now in the Musée Louvre) which Holbein traveled to Germany to paint from life for Henry and which allegedly caused all the trouble. The box is particularly nice as it is an ivory rose and very skilfully done, probably in Germany.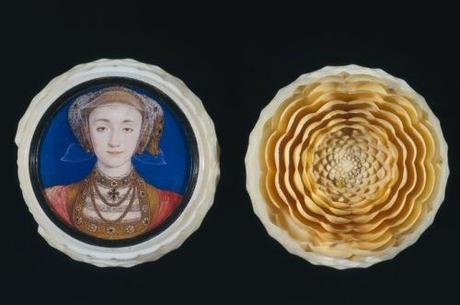 Anne of Cleves, Hans Holbein, 1539. Photo: Victoria and Albert Museum, London.
I think the actual truth of the matter is that Anne was as pretty as Holbein depicted her but that she just wasn't AS pretty as Catherine Howard and also that she'd rather annoyed Henry by completely failing to be suitably impressed by his decrepit kingly glory when they were first introduced at Rochester.
My other reason for feeling sorry for Anne is that stupid bloody Divorced, Beheaded, Died mnemonic rhyme that has a triumphant SURVIVED at the end for Catherine Parr and totally fails to acknowledge that Anne too survived her awful rotten sack bag of a ex husband – leading children everywhere to think that divorce equals DEATH, which is hardly a healthy attitude to have really!
******
Check out my new alternative lifestyle blog, Gin Blossoms!
'Frothy, light hearted, gorgeous. The perfect summer read.' Minette, my young adult novel of 17th century posh doom and intrigue is now £2.02 from Amazon UK and $2.99 from Amazon US.
Blood Sisters, my novel of posh doom and iniquity during the French Revolution is just a fiver (offer is UK only sorry!) if you order before the end of August! Just use the clicky box on my blog sidebar to order your copy!
Follow me on Instagram.

Copyright secured by Digiprove © 2013 Melanie Clegg