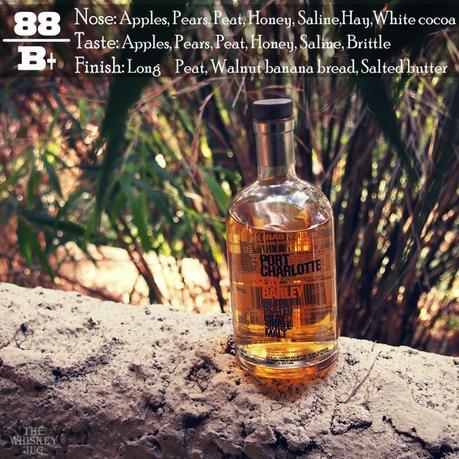 Furthering their "Terroir Matters" experiments Bruichladdie released this whisky, the Port Charlotte Islay Barley, which is a blend of barley from six different farms on the island of Islay. It was then aged, from what I can tell, in ex-bourbon barrels for almost 8 years if it went straight from the barrel to the glass based on the laser code. Less if it spent some time in a steel tank at any point, which is entirely possible.
In Bruichladdich's Words: Port Charlotte Islay Barley
"The wind-driven rain that lashes Islay's fields, and the Atlantic air breathed by the casks as they mature by the shores of Loch Indaal, gives the whisky its signature salty, citrus tang. Harvested in September 2008 from the farms at Coull, Kynagarry, Island, Rockside, Starchmill & Sunderland, peated to 40 PPM, then distilled in December of the same year, this is a whisky of flawless provenance. A true Ileach.
Absolutely flawless construction and balance. Young, confident, zesty and absolutely delightful, the texture is smooth, succulent and stimulating."
Because I put the score on the image it's easy to see that I like the Port Charlotte Islay Barley a LOT more than I do the Scottish Barley release. But how exactly do they differ? Well for that you'll have to hop on down to the Port Charlotte Islay Barley review below to find out.
Port Charlotte Islay Barley Info
Region: Islay, Scotland
Distiller: Bruichladdich
Mashbill: 100% Malted barley
Cask: ex-Bourbon
Age: NAS (~8 years)
ABV: 50%
PPM: 40
Non-Chill Filtered | Natural Color
Price: $50
Port Charlotte Islay Barley Review
EYE
Light gold
NOSE
Apples, pears and peat followed by notes of honey, saline, hay-like malt, white cocoa and lighter notes of toffee, buttercream frosting, charred meat and wax. This is an aroma with a good sense of depth.
PALATE
Apples, pears and peat again make up the bulk and get trailed by notes of honey, saline, brittle and a note that reminds me of walnut banana bread. Light bits of malty sweetness and cinnamon oil show up from time to time.
FINISH
Peat, banana walnut bread, salted butter, fruit and honey slowly fade out to something resembling smoked salmon.
BALANCE, BODY & FEEL
Great sense of balance, round full body and an oily feel.
OVERALL
I really enjoy the Port Charlotte Islay Barley, especially compared to its Scottish Barley cousin; it's almost enough to make me truly believe in barley Terroir, but then I think about the influence of the barrel and I'm back to being a bit on the skeptical side. By using more first fill or more 3rd fill barrels you can change the flavor dramatically. Yes barley can play a role, but I'm thinking more along the lines of strain than soil.
Though my barley terroir skepticism doesn't change the fact that the aroma of the Port Charlotte Islay Barley is rich, crisp and bright; the palate is warm, inviting and oily and the the finish follows suite. Water further sharpens up the nose of the Port Charlotte Islay Barley while adding a buttery character to the palate and upping the maltiness a bit.
All-in-all the Port Charlotte Islay Barley is a solid fruity and peaty whisky. A few more years of maturation could probably help bring out some additional earthy notes to pair with the fruity ones. But that's nit-picking and really this dram doesn't deserve it. It deserves to be drank and enjoyed and that's exactly what I'm going to do. Cheers!
SCORE: 88/100 (B+)