Culture is such a complicated word.  We hear it all the time.  We repeat it like good little citizens.  But do we really know what it means?  In a nation as diverse as the United States, does it mean anything at all?
I don't know how many different languages are spoken in my country. I don't know how many religions are practiced, or how many cuisines are brought to life in the kitchen.  All I know is there's a lot of all three, and this historical trend has made the United States one of the most culturally complicated places in the world. People will never agree on a single language, a single religion, or a single cuisine.  They will, however, agree that certain things are worth eating.  A good recipe is a good recipe, plain and simple.
When I arrived in Spain last February, I knew next to nothing about cooking. All I knew was that I appreciated good food, yet had no interest in producing it myself. This was about to change – fast.  My roommate Lucas (editor of SABOR) showed me that cooking is not limited to recipes and tablespoons.  A frying pan is really just a blank canvas, waiting to be painted with a combination of flavors that, if chosen properly, can bring happiness to the most weary of souls.  Even if it's just for a moment.
With that said, I'd like to bring about the unification of both sabor and culture in a dish that served as my gateway to cooking.  Nearly every American enjoys a plate of pork tenderloin and mashed potatoes. But sometimes simply enjoying isn't enough; sometimes that's boring.  Living in Spain taught me that a few minor changes could transform a mediocre dish into a magnificent one.  With the simple addition of a hand-crafted corn tortilla and some fresh salsa, the aura of this classic dish is completely changed.  The plate is now a work of art, merging the cultures of Latin America and the United States in a fiesta of flavor.  That's the true meaning of SABOR.  Embrace it.
- Matt Nollman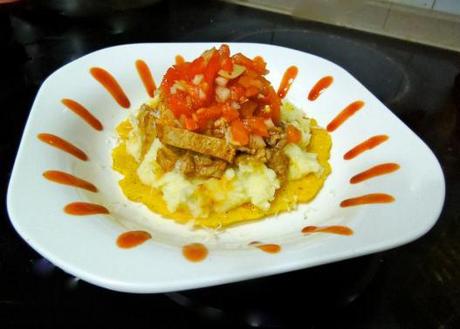 Ingredients:
1/2 pound pork tenderloin, sliced thin
2 tbsp olive oil
1 lemon
2 garlic cloves, minced
1 tsp chile powder
1/2 tsp salt
4 medium potatoes, peeled and halved
3 tbsp butter
1/3 cup milk
1/2 tsp cumin
salt and pepper
1/2 cup masa harina (tortilla dough)
1/2 cup warm water
vegetable oil, for frying
For the pork: Cut the pork into thin strips.  Put in a plastic bag with lemon juice, olive oil, garlic, chile powder, and salt. Marinate for 20-30 minutes.  Heat a large pan to medium high.  Add pork and saute 2-3 minutes on each side, until cooked through.  Set aside.
For the potatoes: Cut potatoes in half.  Place in a large pot of water and boil for 15-20 minutes, until tender.  Drain all of the water except 1/4 cup.  Add butter, milk, and cumin.  Mash until smooth. Add salt and pepper, to taste.
For the tostadas: Mix the masa harina with the water.  Roll the dough into 1/8 inch tortillas.  In a medium sized pan, heat a thin layer of vegetable oil.  When the oil is super hot, fry each side for 2-3 minutes, until crisp.