I wonder what stirred the daredevil in me to pick up half a pound of pork loins on my last trip to the supermarket.
I am not usually a cook, I bake more than i should.
The things that come out of my kitchen usually revolve around cakes, cookies, pies and tarts. And i must say, pork loins are totally out of my jurisdiction.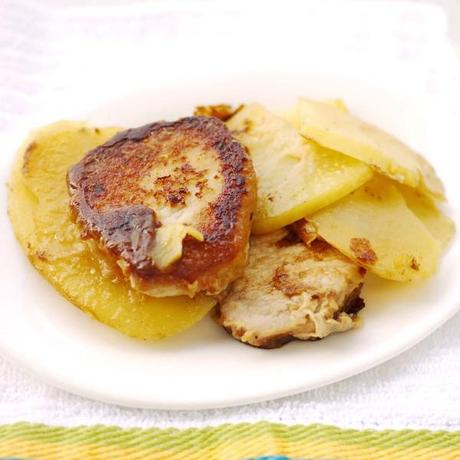 But there is always a first time to everything,
And this is my first, working with pork loin, and ON the stove, instead of the oven.
Working with extra care,
I tossed the pork loins in flour, browned them in a skillet and then simmered them with potatotes in chicken broth. 
And you know what? It wasn't as daunting as i thought it would.
Growing confidence as i went along, i even improvised and threw in a few carrots and broccolis as with the potatoes.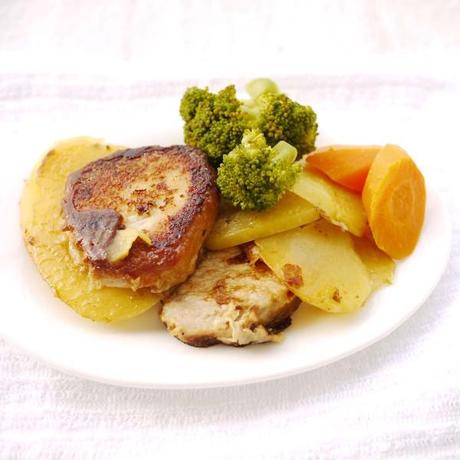 I love how they added such a bright contrast to the otherwise drab colours of yellow and brown.
And of course, nothing brings out the brightness of the sun better than eggs.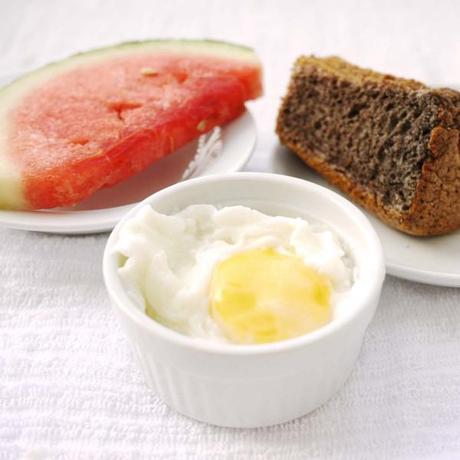 This is not the usual sunny side up. This is a coddled egg with runny, half cooked yolks.
Behind the egg is a slice of watermelon and some leftover black glutinous chiffon cake.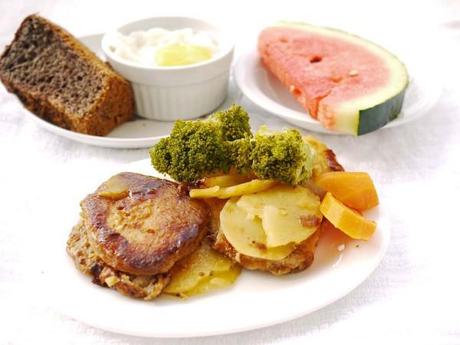 And there you have it, a full set of breakfast.
Have a good morning ahead!
Skillet Pork Chops with Potatoes and Onions
Taken from Allrecipes.com
Ingredients
2 tablespoons vegetable oil
4 pork chops (1/2 inch thick), trimmed
2 tablespoons all-purpose flour
1/3 cup grated Parmesan cheese
1/2 teaspoon salt
1/4 teaspoon pepper
4 Yukon Gold potatoes, thinly sliced
2 medium onions, sliced *

i omitted this as i didnt have any on hands

3 cubes beef bouillon *

i used chicken bouillon

3/4 cup hot water
1 tablespoon lemon juice
Directions
Heat oil in a large skillet over medium heat. Coat the pork chops with flour, and place in the skillet. Brown about 4 minutes on each side.
In a small bowl, mix the Parmesan cheese, salt, and pepper. Sprinkle 1/2 the Parmesan cheese mixture over the pork chops. Layer chops with the potatoes. Sprinkle with remaining Parmesan cheese mixture. Top with onion slices.
In a small bowl, dissolve the beef bouillon cubes in hot water. Stir in the lemon juice. Pour over the layered pork chops.
Cover skillet, and reduce heat. Simmer 40 minutes, until vegetables are tender and pork chops have reached an internal temperature of 160 degrees F (70 degrees C).