Ok, so I'm a little late in posting about my Pop Sugar Must Have box Review for March, but as they say better late than never. I loved this month's box because I felt like I could really use all the products that were delivered to me this month. One of the reasons I cut out some of the monthly subscription boxes is because I could not use the beauty products in the box.  This resulted in me wasting money and a huge giveaway like the one I just had.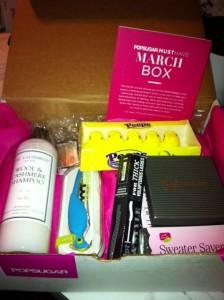 Luckily this month, I could use every single product that was in the box.
Heather Belle Signature Tassel Necklace Retail $72.00
I think this necklace is cute and versatile. I can wear it with a little black dress for an evening out or pair it with jeans and a cute casual shirt on one of my shopping adventures.
Corkatoo Corkscrew Retail $15.99
What an adorable way for me to pop open a bottle of wine.
Buxom Sculpted Lash Mascara Retail $19.00
I love mascara, especially mascara that lengthens and adds volume.  My sister claims that no mascara will give you the look of false lashes. I happened to agree with her but I don't have the time to put lashes on every day. I once got individual lashes done at a local spa; they were soooo pretty. Unfortunately they were all over my bed when I woke up the next morning.
The Laundress Specialty Washes – Wool & Cashmere Retail $19.00
I remember when I was a kid my grandmother would hand wash certain items using Woolite. Is Woolite still on the market?  The shampoo smells awesome! If I ever have to wash any of my sweaters this will definitely come in handy. However, those who know me know that I'm not domestic at all, so I send my laundry out. I'll admit that I do need to get better at doing certain things myself!
Hollywood Fashion Secrets: Sweater Savers retail $5.99
This item removes pills (those hideous fiber balls) from sweaters, coats, and blankets.
The New Black 2 Piece Nail Polish Set Retail $10.00
I got a different shade than the picture. This weekend, I plan to try a new French manicure with the colors I received. I combo was called Pardon My French; a nice neutral paired with a bold blue.
Marshmallow Peeps
I'm not a huge fan, but my dogs are! Right after I googled "can dogs eat marshmallows"; I fed them to my four legged children and even had one with them.
Popsugar monthly charge for the box is $35.00. Click here to give POPSUGAR must have box a try.
Photos Courtesy of POPSUGAR