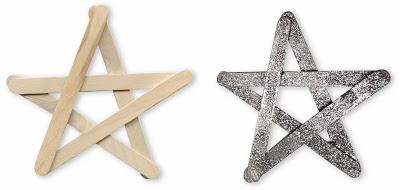 This is a basic craft stick project, but making it super glittery makes it look really special.
1. I made a careful diagram on the board showing the four steps it took to "build" the stars. Students used little mini Aleene's Craft Glue bottles to attach all the joints.
2. After making about three stars, the first was firm enough to paint. Students painted either painted the base metallic silver or gold.
3. While the paint was still wet, they sprinkled it with fine glitter. A tied ribbon makes it ready to hang for the holidays.