Pepsi® is putting creative control of its most iconic brand equity; the Pepsi can, in the hands of fans. As part of the 2015 #PepsiChallenge, consumers will have the extraordinary opportunity to re-envision the universally celebrated and recognized can with their own special designs and creative flair in the "Live For Now" Design Challenge. Led by #PepsiChallenge global ambassador and world-renowned fashion designer and creative director, Nicola Formichetti, the "Live for Now" Design Challenge will kick-off with a design concept from Formichetti, featuring his beloved Nicopanda emblem, that will serve as inspiration and lay the groundwork showcasing where consumers can go with their own submissions. A blank Pepsi can, with only the logo intact, allows consumers to re-imagine the facade of the Pepsi can, with the only limitations their own imagination.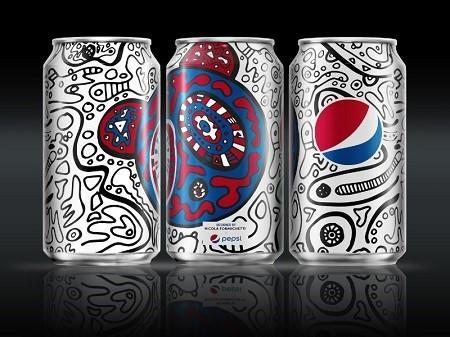 Pop culture icon the PepsiChallenge redesign Pepsi Can
Pop culture icon the PepsiChallenge redesign Pepsi Can
"I find inspiration around me constantly, particularly by the borderless world of design. From fashion and architecture to products and brands, design can be found in many mediums and created by individuals of all talents," said Formichetti. "The 'Live for Now' Design Challenge was a challenge I couldn't wait to accept and I am excited to see what the world conceives of and shares back."
Beginning today and continuing through May 13th, submissions from around the world will be accepted on www.PepsiChallenge.com, with one (1) winning designer offered a once-of-a-lifetime design experience at the PepsiCo Design & Innovation Center in New York City working alongside PepsiCo's industry-leading design team. Top submissions will be judged by Formichetti, PepsiCo's Senior Vice President and Chief Design Officer Mauro Porcini and a hand-selected committee of design-world notables "The new Pepsi Challenge is all about encouraging consumers around the world to step out of their comfort zone and accept a new challenge and opportunity.
Design has long been a haven for those who dare to do differently, so we wanted one of our first global challenges to connect with this bold creative class directly," said Kristin Patrick, Senior Vice President and Chief Marketing Officer, PepsiCo Global Beverage Brands. "In a year of challenges, we have also turned the lens on ourselves to look at our brand differently. We're turning over our most cherished piece of equity and our most visible piece of real estate – the facade of the Pepsi can – to consumers around the world to reimagine. We can't wait to see the results."