Pop. 1280's new album is titled Imps of Perversion because that's precisely who they're trying to represent: the devilish creatures that lurk within the shadowy outskirts of society, gleefully relishing in all things sinful, sleazy, and wicked. Like the band's previous endeavors, Imps of Perversion is intended to be viewed through tentative, trembling fingers. But although Pop. 1280 desperately want to be bad, the Brooklyn horror rockers can't help but sound more polished than ever; from behind the clear darkness of their sophomore album, there are patches of light waiting to shine through.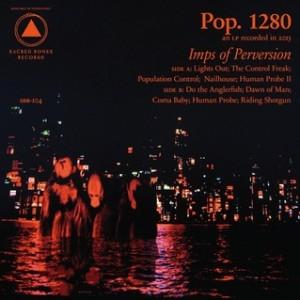 Consider Pop. 1280 the uneasy middle ground between hardcore, no-wave, and goth-inflected grime; the band, led by singer Chris Bug, would have played their music in downtown New York warehouses before the days of oversize soda bans and mayoral candidate dick pics. Imps of Perversion is titled for the short story "The Imp of Perversion" by Edgar Allan Poe, and it's easy to see why Pop. 1280 would identify with literature's darkest master of macabre. Opener "Lights Out" is black as night, expertly displaying the band's penchant for vicious vocal aggression, screeching guitars, and eerie, foreboding undertones. Think of how you'd feel if that monstrous sea creature from the album's cover art actually did exist, and you captured its ominous rise from the river on film. That's Imps of Perversion: an experience that's startling, frightening, but also kind of exciting.
"Nailhouse," one of the album's sharpest cuts, finds Bug pouring his bleeding guts onto the floor. "I try to imagine myself as you/But all I can think of is dog food," he growls, before the track ends its steady stream of grim beats via hypnotic chant: "Young and dumb/And totally numb." However, it's not all doom and gloom on Imps of Perversion; at least, not for those who remember Pop. 1280's last effort, the chilling The Horror.  The band have become undoubtedly crisper and cleaner, which slightly mellows their signature madness. "Do the Anglerfish" features driving (almost danceable?) drum beats, a thumping bass, and even a little jangle action on those guttural guitars. The track is like sci-fi influenced post-punk meets 60s pop kitsch; "Do the Anglerfish" unexpectedly recalls phrases like "Do the mashed potato!" and "Let's twist again!" (except with slightly more bite).
Imps of Perversion may be more accessible than the band's previous effort, but don't count on Pop. 1280 to completely enter daylight anytime soon. This is still music that would scare your mom if she heard it playing from your room, and it's still music that you probably wouldn't listen to while walking home alone at night. Pop. 1280 are those same imps, just maybe slightly less perverted.

3 / 5 bars