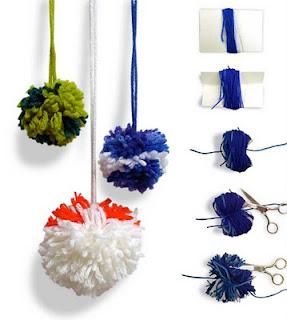 I'm in love with these pom poms! Save all those scraps of yarn – you can make these large or small with tons of different colors. I always thought I needed to buy a gadget to make them, but just found out (thank you internet!) that's not true.

1. I used a square of matte board that was about 4" wide to make about a 2" ball. Wind yarn around it as shown in diagram 1.
2. Continue winding with either the same color or other yarn until it is a fairly thick band as shown in diagram 2. Bend the matte board to slide the yarn off the board.
3. Cut a long yarn for the string, place on a table, and center the band of yarn on top as in diagram 3.
4. Tie a knot that is very tight, and knot again. Cut all the loops as shown in diagram 4.
5. Give the yarn ball a fairly generous "haircut" to shape the ball. Then, use it to decorate whatever you want – or use as a really killer cat toy!