There aren't many things that can instantly trigger the nostalgia in me like a bowl of my mom's Puerto Rican pollo guisado. This delicious, one pot Puerto Rican chicken stew was a weekly staple in my home growing up, because it's a simple recipe that comes together in no time, without a lot of drama. Toss chicken and bunch of simple, yet flavorful ingredients into a pot, cover and cook until the chicken is done. It's really that simple, using some basic Latin pantry staples!
What Ingredients Are In Pollo Guisado?
The quintessential flavor profile of Puerto Rican stews is sofrito. Spices like adobo and sazon give the pollo guisado the salty, umami flavor that keeps you coming back for more! Pollo guisado is an extremely budget friendly dish, as it utilizes the cheapest cuts of chicken, like legs and thighs, to make an ultra flavorful meal. It's even better the next day, if it lasts that long (it never does in my house). You can also easily adapt this recipe for the slow cooker, just reduce the liquid amount to 2 cups since you won't have any evaporation.
What To Serve With Pollo Guisado?
I like serving pollo guisado with steamed white rice, but you can also serve it with mashed potatoes or just some crusty bread for dipping. Make some tostones and you've got yourself a full blown Puerto Rican meal.
More Puerto Rican Recipes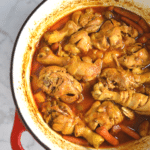 Pollo Guisado (Puerto Rican Chicken Stew)