Today's post goes from one extreme to the other; starting with a really easy update to your walls and ending with a high impact time-stealing DIY!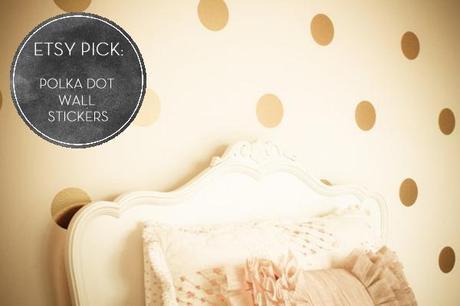 I'm still unsure how I feel about wall stickers. I think they look great in Nurseries and Kid's rooms but I'm not convinced that they are right for more adult spaces. However, I feel that today's Etsy Pick could work in a whole range of rooms. Urban Walls have created a set of Polka Dot Wall Decals that can be easily applied to a wall in any formation you like. As they're matt rather than gloss, they should look like they've been painted on the wall individually. There's 24 colours to choose from, but gold is definitely my favourite! As the can be easily removed they are also ideal if you're renting a place and are bored of the usual magnolia walls.
I am considering using something similar for the alcoves in our second bedroom, though I think they'd look amazing in a downstairs loo or a girlie office. This brings me on the next part of today's post. If I was feeling brave I could create a similar polka dot look with my beloved gold sharpie pen or a pot of gold paint, or go one step further like Shalyn from So Shay.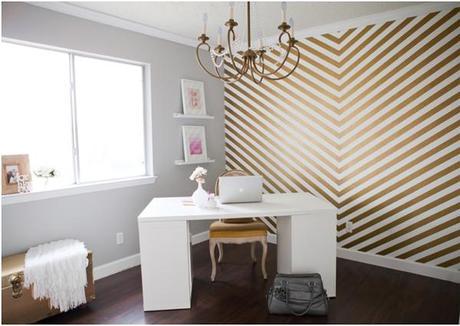 Image credit:: So Shay
You see that amazing chevron wall? Shalyn and her husband painted each and every one of those zig-zags by hand! It must have taken forever but the result is incredible and probably far cheaper to create than tracking down and then putting up wallpaper. I'd love to say that I'm going to give it a go but I just don't think I have the patience!
What's the most painstaking DIY job you've ever done?
Have a great week. Lauren x