This easy 5 ingredient poached egg recipe tops nests of roasted sweet potatoes with eggs, crunchy bacon, and sweet green onion.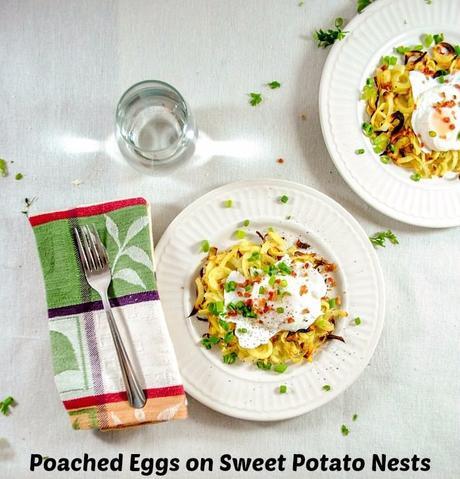 It's time for another 5 Ingredient Friday recipe and today I'm taking out my spiralizer to make these sweet potato nests so I can top them with perfectly cooked poached eggs.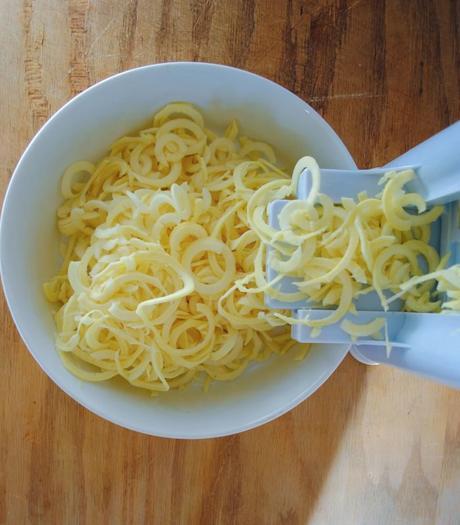 If you don't have a handy spiralizer, it's one of those gadgets that's worth the cupboard space. I take mine out a few times a month just because it's so fun to use, and always impresses family and friends. They love those tendrils of veggies and think I went to some gigantic effort to please them, when in reality I spent minutes turning the crank.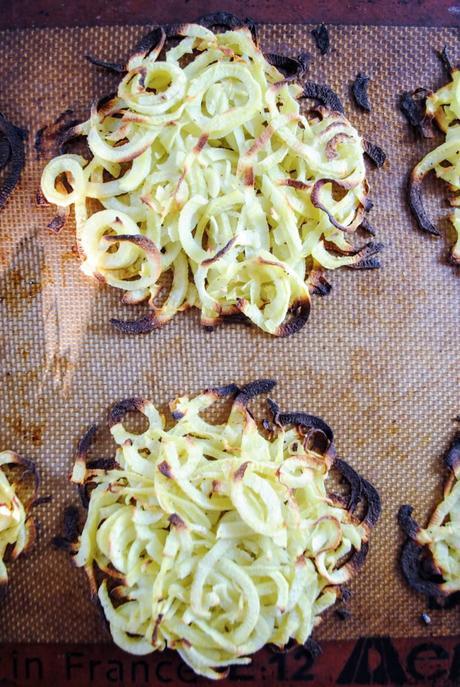 Potatoes and eggs are a classic combination, but I prefer sweet potatoes. I love that nutty sweetness they get when roasted in the oven. I can't resist those crispy bits around the edges.
Mr. Mike poaches the eggs in our household. I've never had a knack for poaching an egg that looks amazing. I usually overcook them or end up breaking a yolk removing them from the pan.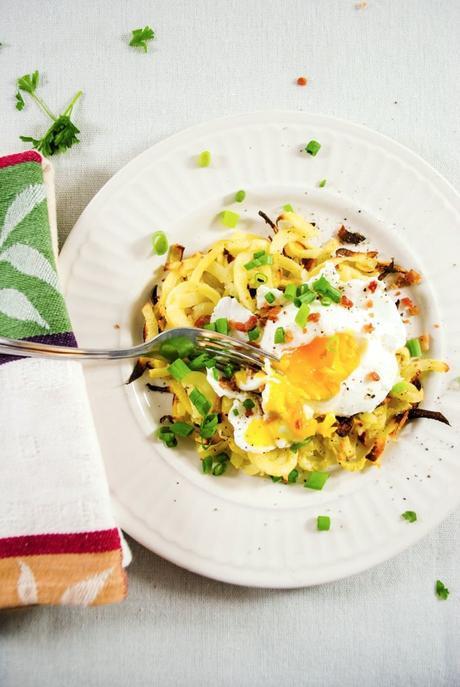 As you can see, Mike's egg yolk is cooked to our idea of delicious. It's lightly cooked on the outside and a bit runny in the middle. When pierced with a fork it drizzles egg yolk over the sweet potatoes making a kind of sauce.
I couldn't resist a few bacon bits sprinkled on top along with slivers of green onion. I buy real bacon bits as we don't use them that often, but you could totally cook up a few slices of bacon to add to the side of your plate. I'll never turn down a piece of crispy bacon with eggs!
Poached Eggs in Roasted Sweet Potato Nests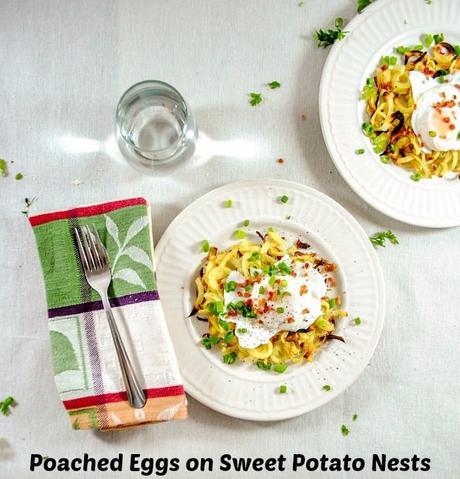 4 small sweet potato , peeled, and spiralized
1 tablespoon olive oil
½ teaspoon salt
¼ teaspoon pepper
4 large eggs
1 tablespoon vinegar
2 teaspoons bacon bits, use real bacon bits
4 tablespoons chives
Preheat the oven to 425 degrees and spray a nonstick cookie sheet with olive oil cooking spray.
Toss sweet potatoes with olive oil, salt and pepper. Mound into 4 large patties onto the cookie sheet and roast for 20 - 30 minutes until lightly browned around the edges and potatoes are tender.
While sweet potatoes are roasting, heat a small-sized skillet with 2" of water over high heat with vinegar and bring to a boil. Reduce the heat to medium-low. When the boiling reduces to a simmer, crack an egg into a bowl, then slide it into the water. Repeat for the remaining eggs. Allow the eggs to gently simmer until the yolks are cooked to your desired doneness. Gently pour hot water over the tops of the yolks to speed up cooking.
Remove sweet potato patties to a plate with a large spatula, then top each patty with an egg, bacon bits, and chives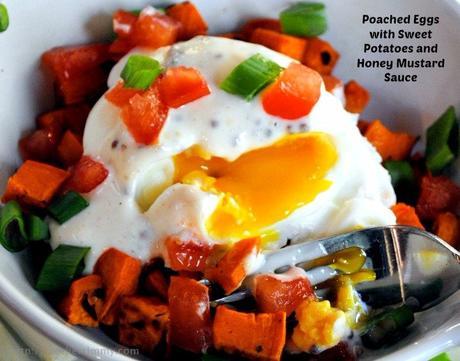 If you like this, then you'll love these!