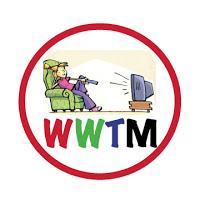 The answer to Wednesday's Trivia Question: Ladies Love Cool James or LL Cool J plays Sam Hannah on NCIS LA.
FIRST FIVES:Bill McLaughlin, Phyllis DiCesare, Andrea Walters, Ed Ziskind & Jen Ragusa
Honorable Mention:Helen Morales
Tuesdays Broadcast Top 5
NCIS-CBS 3.7/21.4
NCIS: LA 3.1/16.5
The Bachelor-ABC 2.6/7.7
New Girl-FOX 2.5/4.8
The Taste-ABC 1.8/5.2
Tuesday's Broadcast Trendrr Top 5
The Bachelor-ABC 149,458
Smash-68,271
New Girl-FOX 57,776
NCIS-CBS 52,963
NCIS LA-CBS 36,275
Tuesday's Cable Top 5
The Big Bang Theory-TBS 1.6/3.4
Tosh.0-Comedy Central 1.5/2.2
Hardcore Pawn-Tru 1.2/3.4
Pretty Little Liars-ABC Family 1.2/2.7
Cougar Town-TBS 1.1/2.0
Tuesday's Cable Trendrr Top 5
Pretty Little Liars-ABC Family 381,233
The Bad Girls Club-Oxygen 122,951
Tosh.0-Comedy Central 64,262
Dance Moms-Lifetime 45,399
Real Husbands of Hollywood-BET 39,125
I was alerted during the first commercial break of Guys with Kids that one year from last night will be the first night of the Winter Olympics in Sochi.  That gives me a year to figure out where the hell Sochi is and how to say it correctly.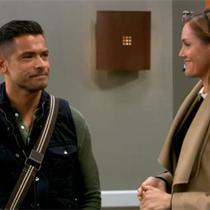 My entire family is going to be devastated if Guys with Kids isn't renewed. Everything I read isn't giving me much hope, but if we all get together and watch this extremely cute, sugary sweet show and then tell everyone we know to watch this fun, family friendly, adorable show, and then post it to our Facebook pages, Viggle it, Tweet it, and Get Glue it, then maybe, just maybe, NBC will give it another season. In order to get some new viewers, the writers and my FBFF, Jimmy Fallon came up with a GREAT idea, bring in the super hot Mark Consuelos as Andy, Chris and Sheila's new manny.  Of course not only is Andy perfect looking but he was also a perfect manny which made Chris freak out until Sheila told him that nobody could replace him as Ernie's Dad... ever! Of course he felt better and everything was fine. Gary electrocuted himself blowdrying a frozen chicken which got him and Marnie to think about who they should leave their kids to if they both die.  They asked Nick and Emily who said yes, but meant no, so Emily pretended to have a drinking problem, came clean, and when all was said and done, agreed to take them anyway.  It's a sugary sweet sitcom, it has to be wrapped up perfectly in 22 minutes and it was.  WATCH THIS SHOW PEOPLE.  (Jimmy, I'm trying to help you...please come for that sleepover so we can strategize!)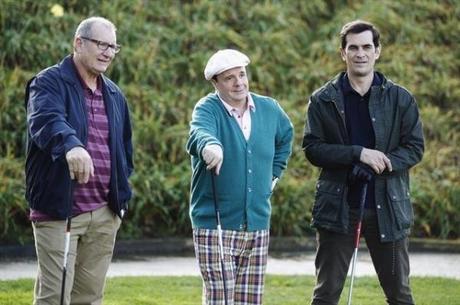 Not an Emmy winning episode of Modern Family at all this week.  I actually don't love Nathan Lane.  He's a little too much for me in general.  Nathan was back as Mitch and Cam's friend Pepper who has been teaching Mitch to play golf so he could finally make his Dad, Jay,  proud. Of course Mitch wins the round and then on the way back to the clubhouse, they play "Cats in the Cradle" for Phil who had never heard the song before (Really? Who's never heard "Cats in the Cradle"?) Of course Jay is in tears and apologizes to Mitch, Phil blows off his appointment to go see the school play and Nathan calls his son. (Yeah, I know, I found that one hard to believe too). Dylan and Hailey playing house with Lily and baby FJ, was lame. Claire's storyline this week, the faking of an accident that happened because Phil left a golf ball on the floor was also lame. The lamest story of the night,  Alex and Gloria going to phony fortune teller.  But it all sort of came together at Cam's school production Phantom of the Opera where Luke shocked everyone as understudy and Phil was there to see it thanks to "Cats in the Cradle." Sure it was hard to believe and I'm pretty sure Luke wasn't even singing. Not a great episode.  Again, they can't all be winners.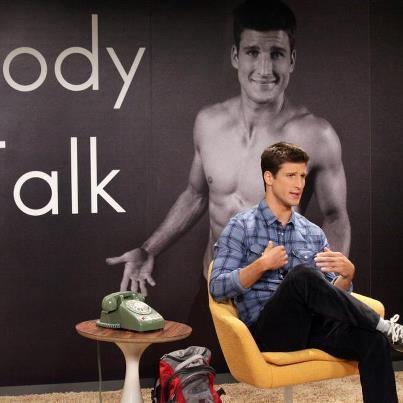 I just realized on last night's Suburgatory that other than Noah the dentist, nobody really works on this show either.  Especially
George. Pretty sure he's an architect or a builder or something but he really only helps out Noah and Dallas who never really pay him with real money or anything. I wonder if he's related to everyone on Cougar Town? This week while George was helping Dallas out, he discovered that a big chunk of her property is in East Chatswin, so she and Dahlia quickly became outcasts.  Dahlia even had to transfer to East Chatswin High School where everyone was "tanner" than she was.  Hard to describe how funny the whole thing was. Dahlia kills me. At school, Tessa needed to start doing some extra curricular activities, so she became the producer of the school TV show, "Teen Talk" which quicky became a hit when she got her boyfriend, Ryan Shea to talk about his body on "Body Talk". Then when Ryan and Tessa had a blowout it became the "Tessa Talk" Show and lost all of its viewers. Thankfully the couple made up and we got Ryan and "Body Talk" back. Ryan's not that cute to me, but the show wants us to believe he is super hot and for some reason it works. Weird...very weird.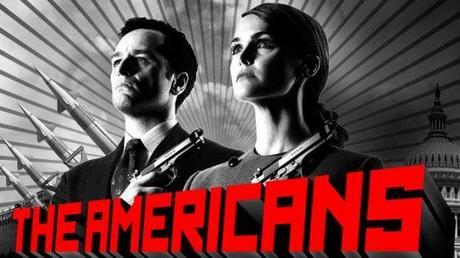 I'm a bit nervous.  The second episode of The Americans and I was sort of confused about who the blond "girlfriend" was and what happened to all the 80's music and references? I hope this isn't a sign of things to come.  Phil and Elizabeth did poison a kid so that his Mom (The gun toting weed dealer from Weeds whose name I just can't think of at the moment...it'll come to me.) would put a clock with bug in it in the Secretary of Defenses home office. She struggles with the decision, but finally does it once Phil kicks her scary brother's butt and breaks his arm.  Man those Russians have trained him well.  Other than the blond chick,  the rest of the show was pretty clear to me and was good, but I need my 80's...fingers crossed that next week we are back to some Guess Jeans and some REO Speedwagon!
 Halia!!! Just remembered her name...I knew it would come to me.
-It's been a while since I've had anything fun to post from my Future Best Friend Forever, Jimmy Fallon.  He's been off for awhile and I just realized that I had a bit of a Season Pass glitch and haven't been getting all of my Fallon's, but now I'm back on track.  Sorry Jimmy!  If you had called, texted or stopped by for a snack,  you would have been able to tell me what's been going on and I would have realized a lot sooner that I was missing the show.  Anyway on Tuesday's show, the 3rd installment of Downton Sixby aired on Late Night . For those of you that are fans of Downton Abbey, you have to watch Brooke Shields as Lady Cora in this one. She has her down perfectly!  Check it out: 
http://www.youtube.com/watch?v=GgeyWKv_gxU&feature=youtu.be
-The Wanted isn't my favorite boy band, not by a long shot,  but they are still a boy band and this boy band just got a reality show on E! Personally,  I would have been happier if One Direction or the best boy band ever...the Backstreet Boys got their own reality show, but I know me and I'm guessing I'll check this show out just because I have a weakness for boy bands in general. 
-This coming Monday David Letterman will again reveal the Sports Illustrated Swimsuit Cover photo on his show.  I know it's been done before, but it still rubs me a little towards creepy, no? 
-A few renewals were announced yesterday, Bravo gave a thumbs up to Top Chef for Season 11, 
MTV's giving the go ahead for another season of Buckwild, and TLC ordered a 6th season of Toddlers & Tiara's and 10 more episodes of Cheer Perfection.  I don't watch any of these at all but happy for all of you that do! 

Starting on Sunday 2/9 through 2/15 ABC celebrities will be live tweeting during their programs each night. I checked the shows and the stars and to be honest, there isn't anyone THAT juicy tweeting during this "event".  The biggest names on the list are: Genie Francis from General Hospital, Sean Lowe from the Bachelor, Anthony Edwards from the new show "Zero Hour", Kerry Washington from Scandal,  Reba McIntyre from Malibu Country and everyone from Shark Tank.  Would you want to tweet any of these guys?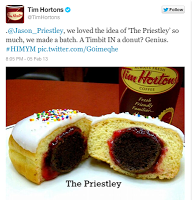 -For any of you How I Met Your Mother/Jason Priestly fans, watching Monday's episode where all of the Canadian celebrities were reminiscing which Tim Hortons they were in when Robin Sparkles "lost it", you may recall that the most perfect man on earth, Jason Priestly also noted that he created his own donut concoction by putting a "Timbit in a donut".  TIm Hortons headquarters tweeted out this photo of the "Priestley" available for a limited time only...I'm telling you, Twitter marketing is taking over the universe!  
With the release of Game of Thrones Season 2 on DVD, you can now take the Nights Watch Oath along with Jon Snow. It's actually pretty cool. Yes, I'm a total loser and did this last night.  I love Game of Thrones and IJon Snow, so of course I had to try this.  It's pretty cool.  Here's the link if you're as much of a loser as I am. Let me know if you do it...I promise I won't tell anyone:
http://www.mywatchbegins.com
Thursday's Trivia Question
:  Okay, since I'm obsessed with Jason Priestly right now...Who was the older, married woman Brandon Walsh was involved with his freshman year of college? 
WWTM-Kristy
http://watchingwaytoomuch.com
[email protected]
[email protected]