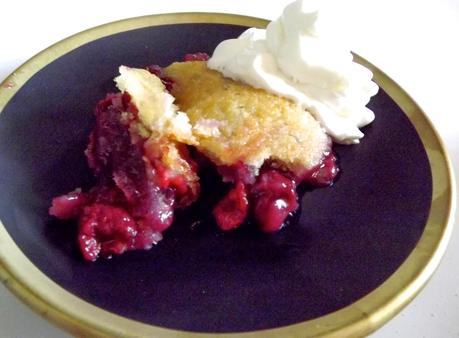 When I was in high school, playing hooky was a right of passage. If you could fake a stomach ache well enough, you got to sit home and watch bad sitcoms all day. Now in the college world it's your decision to stay home and miss a class or two. For peace of mind, I needed a hooky day to get some cleaning done, relax, and well...to try my hand at baking a thing or two. Because spring and summer are constantly on my mind right now, I need more than anything to convince myself that the seasons aren't too far off. My raspberry cobbler might not make it warm outside, but it sure does taste like the warm weather never left. 
You need: 
1 Stick of Unsalted Butter
1 1/4 cup of sugar (1 cup & 1/4 cup separate)
1 cup of self-rising flour
1 cup milk (I used rice milk)
1 package of frozen raspberries 
-1 mixing bowl
-measuring Cups
-whisk
-baking pan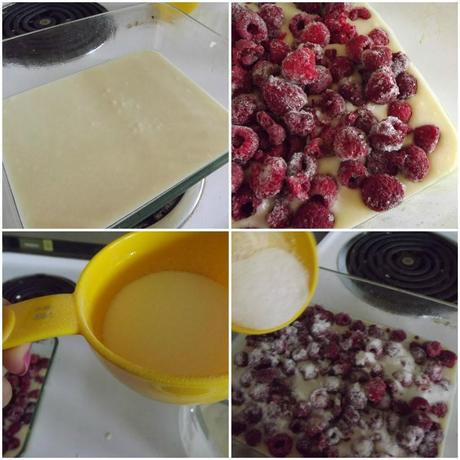 Pre-heat oven to 350 degrees. (Takes 1 hour to cook or until golden brown)
1. Melt the stick of butter (I used the microwave for a little over 2 minutes)
2. Pour 1 cup of sugar into the mixing bowl
3. Pour 1 cup of self-rising flour into the mixing bowl
4. Pour 1 cup of milk into the mixing bowl and whisk together thoroughly
5. Pour the butter into the bowl and whisk it together thoroughly
6. Butter or grease the baking pan (I used a glass one)
7. Pour the batter into the pan
8. Sprinkle in the raspberries to equally cover the top of the batter
9. Evenly cover the tops of the raspberries with the 1/4 cup of sugar
10. Bake for 1 hour.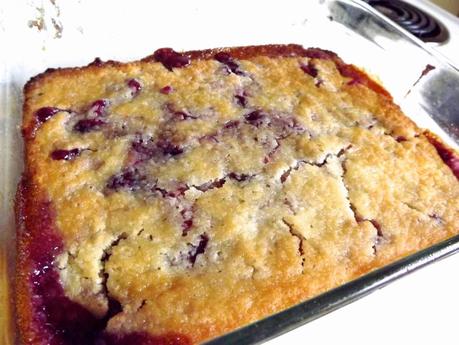 Enjoy!
xo
BCC