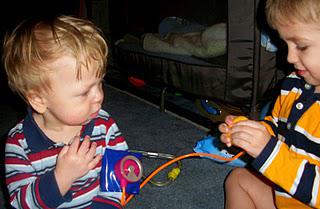 Baby J loves going to the doctor. He likes all the neat little gadgets and loves interacting with everyone. Bean, on the other hand, has developed a severe case of White Coat Syndrome. He'll click and trill and smile until the nurse or doctor attempts to touch him. Once the exam starts, it's all over. We work hard to get all necessary components of the exam done and questions answered quickly.
He has a lot of appointments coming up so I took the advice of some other moms and bought a play doctor kit. The purpose is to get him familiar with the equipment and desensitize him to sensations like getting his blood pressure taken. He has enjoyed playing with the toys and Baby J has happily assumed the role of doctor.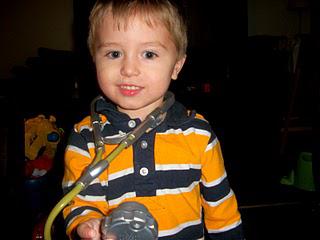 The kids have been practicing a lot and I'm hoping it will pay off in a big way. Tomorrow, both kids are scheduled to see a cardiologist.
Bean is going for his follow-up after receiving his Williams Syndrome (WS) diagnosis. People with WS are often afflicted with heart troubles. The most common troubles are pulmonic stenosis and supravalvular aortic stenosis (SVAS).
We took Bean to a cardiologist long before we knew about WS. When he was just a couple of weeks old, his pediatrician noticed a heart murmur that was concerning to him so he made the referral. We waited for an appointment and saw the specialist when Bean was about two months old. I remember being terrified of going to that appointment and what we might learn. This was happening at the same time that Bean's reflux was seriously out of control, he had yet to pass his hearing test and we had just received a referral to a neurologist "just to be on the safe side." It was all so overwhelming and the thought of my child having a heart condition was just too much to even consider.
The cardiologist was wonderful with us. She ordered a same-day ECHO and diagnosed peripheral pulmonary artery stenosis. We learned that it is a relatively common condition that resolves itself more often than not. The doctor didn't need to see him back until he was three and that was only if it hadn't resolved by then.
Fast forward to the WS diagnosis. The geneticist wanted us to get back to the cardiologist sooner than later. The diagnostic referral physician agreed. In reviewing his entire set of medical records, I learned that the cardiologist we saw many, many months ago included a note that read "possible aortic stenosis." SVAS is very common in WS patients and is a much more serious condition. It often requires surgery.
Looking back, I wish I would have requested his records much sooner. I might have had more insight about how all of Bean's little health quirks fit together. We could have put the puzzle pieces together a long time ago. Alas, I'm not a doctor - though I could probably earn an MD from all of the time I have spent on Dr. Google. With all the knowledge that I have now, I'd be lying if I said that I wasn't feeling some of the same anxiety that I was feeling 17-months ago when we first went to the cardiologist. I am trying to keep it at bay though because I certainly don't want Bean to feel my anxiety and feed in to his stress about going to the doctor.
I am not at all concerned about how Baby J will handle the appointment. He loves going to Children's, playing with the toys and seeing the model trains. He will relish the attention. He doesn't realize that he also has a murmur, though. His pediatrician feels that it is benign but wants it checked out anyway considering his brother's troubles. I'm really not too concerned. I had a fetal ECHO done when I was pregnant with Baby J because my brother had a ventricular septal defect (vsd) as a child (it closed on it's own). The fetal ECHO didn't show anything and I trust his ped. But still, a small part of me worries that there's something going on with Baby J and we, collectively, have missed it because we have been so focused on Bean.
Regardless, we'll deal with whatever the exams find (hopefully nothing!!!) and get the boys whatever help they need, if anything. I am hoping that they are both comfortable and not too stressed about being there - maybe all that fun they've been having playing doctor at home will translate to the exam room.