To many of us for whom there is no god, a love of music that feeds body and soul is about as devotional as we are ever likely to get.
Music is a fundamental expression of our humanity. Whether we create it or listen to it, music communicates, consoles, entertains, inspires, liberates and sustains. It has been possibly the single most constant component of my life, (with fatherhood, affairs of the heart and a passion for football all in close contention) and i
t continues to be so - the appetite doesn't sicken. Just this month I've been enjoying new albums by Ash, Souad Massi, the Orange Peels, James Taylor and Wire; last night I went to an amazing gig in St Annes by very talented local musician Joni Fuller.
My tastes are catholic: jazz, blues, folk, rock, symphonic, reggae, indie, choral, punk, 'world' - it just has to touch that chord. I enjoy listening to it, playing it (bass guitar is the instrument of choice) and writing about it. Psychedelia is my favourite musical flavor and for many years I co-edited the music fanzine Holding Together, as well as writing for various other publications.
Today is unusually sunny, given the disappointing July we've been subjected to, so - with seagulls wheeling overhead in blue Blackpool skies - I'm going to do a  Desert Island Discs on you. I can almost hear the theme tune playing in my head.
These chosen castaway selections are among the many special records that have sustained me personally over nearly five decades. My Top Fifty has about 300 entries! You'll understand then if my Desert Island Discs number ten rather than the traditional eight records, for which excess I'm willing to forfeit the luxury item. These ten albums are not necessarily my absolute favourites of all time, but each one continues to resonate in that special way that only music can. In chronological order then, as the solar-powered record player swings into action...
Revolver – The Beatles [1966]
The real Summer of Love began for me on 5th August 1966, the day the Beatles released 'Revolver' upon an expectant world. That LP perfectly captured the zeitgeist that was stirring from London to San Francisco. To this thirteen-year old it was both the fabbest and the coolest musical statement and I still consider it probably the finest album ever made by anyone, anywhere, anyhow. Its fourteen tracks are all wonderful compositions in themselves; as a collection, I think they are unsurpassed. Combining an anti-establishment stance ["Taxman"] with wry social observation ["And Your Bird Can Sing", "Doctor Robert"] and existential questing ["I'm Only Sleeping", "She Said, She Said", "Tomorrow Never Knows"] plus some of the band's most vibrant love songs ["Here, There And Everywhere", "Good Day Sunshine", "Got To Get You Into My Life",], the Beatles really nailed the yin and the yang for us proto-hippies. They switched the points and in doing so allowed us to forgo destination Squaresville in favour of a magical mystery tour. 'Revolver' is the fanfare which heralded the dawn of a golden age and I still get an echoing sense of that boundless optimism whenever it is played.
Surrealistic Pillow – Jefferson Airplane [1967]
'Revolver' may have tilted my world but 'Surrealistic Pillow' turned it upside down. The Airplane were more exotic than the Beatles. They had the weird name, the enigmatic look, a girl in the ranks and they came from America. More than that, they were a San Francisco band – and by 1967 San Francisco was where it was all happening, birthplace of the hippie nation and crucible for the youth revolution that would surely inherit the earth, (or so we fondly imagined).
Even more important than all of those factors was their music – and that has always been the key. The Airplane demonstrated they were way cooler than the Beatles in 1967 with not one but two albums that outstripped 'Sgt Pepper' (itself in thrall to the vibe that was emanating from the West Coast). With their repertoire of classic rock songs ["She Has Funny Cars", "Somebody To Love", "White Rabbit" and "Plastic Fantastic Lover"] allied to their folk-rooted love songs ["Today", "Comin' Back To Me", "How Do You Feel"] all combined with country, blues and jazz flavourings, Jefferson Airplane gave us in 'Surrealistic Pillow' a record of sophistication and depth that is still quintessentially the sound of the Summer of Love.
Twelve Dreams Of Dr Sardonicus – Spirit [1970]
Spirit's excellent 'Twelve Dreams…' was frequently blasting from the speakers during my first year at university. Their fourth and (in my opinion) finest creation will always be associated with those halcyon days of the early '70s: living with my girlfriend in a student house, reading great literature for pleasure, all of us thinking earnestly about how we could make the world a better place. The sun shone practically every day and the pharmaceutical sunsets were stunning. Could life be finer than this?
'Twelve Dreams…' encapsulates all of that experience for me. It's a mature song-cycle, finishing back where it starts, that treats of the big themes we discussed endlessly at the time – how to live to one's potential as an open, loving human being free of exploitation or oppression without fucking up others or the planet we live on. It's all there, almost a libertarian manifesto on two sides of vinyl. Of course, as important as the ideas were, they would be nothing without the tunes and the sheer mastery with which Spirit executed them. "Nature's Way" has to be one of the loveliest songs ever written, but it's only a short head above the other eleven magnificent dreams on offer: "Animal Zoo", "Love Has Found A Way", "Mr Skin", "Morning Will Come" – just a roll-call of musical gems. The band performed aural alchemy when they created 'Twelve Dreams Of Dr Sardonicus' and forged in the process one of rock music's great and enduring moments. The sun still shines from its grooves.
Crocodiles – Echo & The Bunnymen [1980]
The late '70s proved to be a bit of a desert in the psychedelic landscape. We had the Clash, Sex Pistols, Gang Of Four, Wire, but with glue being preferred to flowers in the sniffing department, once Reagan and Thatcher commenced leading a dance of death across the western hemisphere, there really wasn't a lot of peace, love and understanding to go round.
At the beginning of the '80s I was living in a high-rise tower-block in Hackney. The elevators stank of piss and the buildings were graffiti-sprayed. "Help the police – beat yourself up" famously got amended to "Help the lice – eat yourself up." How we chortled as we climbed the garbage and glass-strewn stairway to 17th floor heaven. In recompense, the view out across the city of London at night was quite stunning.
Fortunately, up on Merseyside, a new generation had been listening to the acid sounds of the sixties. I remember going to see Echo & The Bunnymen in late 1980 or early 1981 with my pal Lorraine. One of us had bright pink hair (and it wasn't me). Ian McCulloch and friends emerged in full camouflage gear singing songs such as "Crocodiles", "Going Up", "Stars Are Stars", "Villiers Terrace" and "All That Jazz". They were like notes from underground to let us know that psychedelia was alive and flickering in the interstices of the concrete wasteland. Our motto in those dark days became: "Leave no turn unstoned."
Translator – Translator [1985]
Translator was a group of Angelinos who relocated four hundred miles up the coast to San Francisco because the vibe was so much more positive. Their eponymous third album became the soundtrack to an Indian summer and my wedding daze.
I like to think that my eldest daughter was conceived on my wedding night, born as she was nine months to the day later. She was certainly a love-child, as indeed was her sister two years further on. Starting a family causes one to reflect on the state of the world our children will inherit. Becoming a parent is a huge act of faith and this record, brimming with thoughtful optimism and positive vibes was a ringing endorsement of that act of faith. As Steve Barton sang: "It's alright to feel what you feel; we are friends of the future, we're afraid for each other, we go towards the same heartbeat…"
Not only on "Friends Of The Future" but also on "Come With Me", "Another American Night", "Inside My Mind", "Breathless Agony" and others, Translator – dharma bums to a man – delivered a set of classic American rock songs infused with an almost Buddhistic essence and shot through with psychedelic touches, no more so than on "New Song", with its steal from the Beatles' "Rain" and its raga-like guitars. For its craft, its energy, its musicianship and its compassion, I loved this record then and I love it now – and my daughters are happily into their twenties.
The Stone Roses – The Stone Roses [1989]
At the end of the '80s, four young Mancunians combined to re-establish my faith in the possibility of a truly popular home-grown psychedelia. This Sceptic Isle hadn't thrown up many widely-regarded exponents of the genre after the high days of the late sixties. Echo & The Bunnymen, Teardrop Explodes, the Boo Radleys and Soft Boys had moments of promise – but Cope and Hitchcock had to go solo to pursue their singular acid visions away from the mainstream. However, in 1989 the Stone Roses served up the finest album of British psychedelia in a couple of decades and it gradually stole out over the airwaves. This was rebel music. It was overtly anti-government and anti-monarchist in content ["Bye Bye Badman", "Elizabeth My Dear"], but its form was a jangly blast, a blissful, rushing groove. It was splendidly psychedelic and was widely embraced by a grateful musical nation.
The Roses (plus John Leckie who surely deserves a 'fifth Rose' status akin to George Martin's 'fifth Beatle' tag) conjured up one of the finest debuts on record, a truly shining moment. It was an artful and mature work that owed its defiant content as much to the spirit of the Situationists (and the uprisings of 1968) as it did to a deep-rooted opposition to Thatcher. It owed its musical form as much to the Byrds and the Monkees as it did to the ecstasy-fuelled rave culture of the late '80s.
My daughters (then aged three and one) particularly enjoyed "She Bangs The Drum". Their mother and father loved "Waterfall", "Don't Stop" (a complete track built on backwards guitars), "Made Of Stone", "Sugar Spun Sister" and the epic "I Am The Resurrection", classic tunes every one. For many who were half a generation younger than me, this was their 'Revolver'. To these ears, it was an album of citrus-sucking sunshine, full of a zest for life, in the face of the establishment, capturing the spirit of an age which had had enough of Tory misrule in the UK and tyrannical misrule across much of Eastern Europe. Mere months later, the Berlin Wall came tumbling down.
Lulu – Trip Shakespeare [1991]
Trip Shakespeare were three guys and a gal from Minneapolis, USA, who dared disturb the fabric of the universe with their music. 'Are You Shakespearienced?' (their sophomore album) was a teasingly clever allusion to the first long-player from Jimi Hendrix – but that was the Trips all over, a smart and playful bunch who had majored variously in anthropology, art, Chinese and English literature and then chose music over academia. They lit up the early '90s for me with their inventiveness and verve. At that time they were just the best band rocking. Pleasingly but not slavishly psychedelic in sound, theirs was a music of the spheres, metaphysical and truly mind-expanding, as well as being good to dance to.
'Lulu', their fourth and final outing, was their most sparkling creation with its mix of literate and arcane lyrics, its arresting musical compositions chock full of inventive arrangements and its amazing three-part vocal harmonies all set offto perfection by what I believe are called tight production values. "Your Mouth", "Down My Block", "Jill Can Drive", "Look At The Moon" and "Patricia" are highlights of a very fine set.
For several years the sounds of Trip Shakespeare virtually ruled in the Rowland household and they are the only group other than Jefferson Airplane (and latterly The Coral) to have had their posters grace my living-room walls.
Kontiki – Cotton Mather [1997]
On its release in 1997 (an epic year for psychedelic music) I raved about 'Kontiki' being the best record of the last twenty years, fit to be spoken of in the same breath as 'Revolver' and 'Surrealistic Pillow'. The passage of time has not altered that opinion. In fact, the deluxere-mastered release of Cotton Mather's magnum opus in 2012 (replete with recording notes, a bonus disc of demos, alternate takes and songs that didn't make the final cut) just reinforces what a stellar work Robert Harrison and his band contrived to make. That they created it in a pokey home studio using a 4-track cassette recorder and a 2-track DAT machine is quite extraordinary.
'Kontiki' is so inventive (teeming with ideas), so beautifully produced, so full of variety, depth, fearless experimentation and joyfully executed classic pop tunes that the hundredth listen is as exhilarating as the first. I still can't get over how Robert Harrison (of Austin, Texas) sounds so spookily like John Lennon on these songs and I defy anyone hearing "Homefront Cameo", "Spin My Wheels", "My Before And After", "Lily Dreams On" or the utterly magnificent "She's Only Cool" to deny they are in the presence of greatness.
With this album, Cotton Mather constructed an elemental, chiming, complex masterpiece, as mesmerising as an aural sunburst – a record so good, in fact, that I had to go out and buy copies for my friends.
Free All Angels – Ash [2001]
Ash formed in 1989 when boyhood friends Tim Wheeler and Mark Hamilton each received guitars for Christmas. Just over a decade later, along with Rick McMurray and Charlotte Hatherley, they created this masterpiece.
At their outset, Ash seemed unlikely candidates – an amphetamine-fuelled punk band from Northern Ireland – but by this, their fourth album, Tim Wheeler's innate lyrical romanticism was shining through and that sensibility seemed to transform the band's brittle brilliance into something more expansive. They still sounded incendiary, burning with a passion, but that passion now flamed with the warmth, color and breath-taking variety of a firework display rather than an oxy-acetylene torch.
"Walking Barefoot" and "Pacific Palisades" are paeans to the summer of love; "Shining Light" and "There's A Star" are hymns to the heavens; "Someday" and "Sometimes" are stunning, soaring ballads of love, loss and redemption. Then there's "Cherry Bomb" (the second finest song to come out of Ulster after "Teenage Kicks") and a quartet of spiky, edgier numbers. 'Free All Angels' is forty-eight minutes of near faultless rock'n'roll, an album burning with energy but also possessed of soul in abundance and a grandeur that makes it a very special record.
This Ash opus doesn't make many musical references back to the '60s. It is neither mellow, pastoral nor trippy. Rather, it's fiercely contemporary – but to everything there is a season and when the occasion merits it I can guarantee that 'Free All Angels' will blow away any encroaching dark clouds and raise the spirits.
Magic And Medicine – The Coral [2003]
It is entirely fitting that The Coral should round out this castaway parade of musical favourites. They became my main love of the last decade, they're from Merseyside (which is where this long, strange trip had its inception) and 'Magic And Medicine' was released in the year I turned fifty.
It's their most pastoral offering, with its tales of forests "so rare and divine"; of secret kisses, "some kind of forgotten bliss on this summer's eve"; of femmes fatale who leave you "chasing shadows in the sun all along the dusty road." Much of the mood and lyrical content of the album is informed by James Skelly's reading of 'The Golden Bough' (Sir James George Frazer's comparative study of mythology and religion), of Aleister Crowley's diaries (he of the Hermetic Order of the Golden Dawn) and of the works of Dylan Thomas.
The sheer quality and variety of sounds The Coral conjure up on this album is hugely impressive. Originally rooted in the simple, propulsive virtues of skiffle but taken to a completely different level with inventive drumming, twin acoustic and electric rhythm guitars, melodic bass, keyboards and exceptionally inventive lead-guitar playing, 'Magic And Medicine' rocks, rolls, ripples, swings, twangs, mesmerises and wigs out with a truly psychedelic sensibility, nodding to Beefheart, the Doors, Echo & The Bunnymen, Love and the Yardbirds in the process. Magic medicine indeed – just pass it on!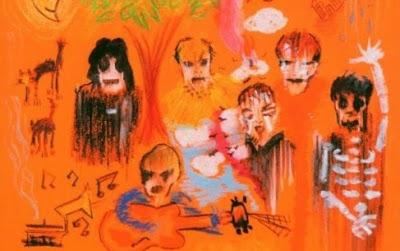 If you're not familiar with any of the albums, I hope I might have inspired you to take a listen. I believe these ramblings are going to appear in print shortly in an upcoming issue of Blackpool Rox II.
This week's poem is a new creation sparked by a writing workshop at the Grundy Art Gallery a couple of months ago (not that you'd necessarily glean that from reading it). Apologies if it sounds somewhat scathing, but some music critics have been known to elevate the critique above the art.
Lines To A Music Critic
At the conjunction of Apex and Vine,
under the Tree of Horns,
reality speaks
from a wire, a barrel and a cone
to highlife beauties
all misty in the glass.
Musical winos kiss and tell
the truths in jazz-tinged blasts
while you,
grooving to the sounds of time
trickling through your ears,
sup up the milk
of the psychedelic cow
to get you high.
You raddle and you grasp,
but your scribbled ramblings
don't come nigh
the heart of the matter.
You never had it
and sadly
you'll never get it either.
There is no feeling for the art
in your self-serving reams of rhetoric.
Your deadline calls,
so boldly go
frazzle-faced into the waking world
and tear down each false avenue of print
to the full-stop of morrow.
We'll watch you leave
and then
play on.
Thanks for reading. Have a groovy kind of week, S ;-)
Email This
BlogThis!
Share to Twitter
Share to Facebook
Reactions: