Salad in a jar has got to be one of my favorite conveniences. I don't remember who came up with this great idea or when, but what I do know is that it works like a charm. As long as I put my dressing on the bottom and layer from bottom to top – wettest to driest ingredients, that means lettuce / greens layered loosely on top, a Tablespoon of nuts/seeds on top of that and then the lid.
Here's the salad-in-a-jar I made for Monday's lunch. So easy to assemble. Oil & Vinegar on the Bottom and layered (bottom to top) with feta, cucumbers, tomatoes and lastly loosely packed raw Spinach.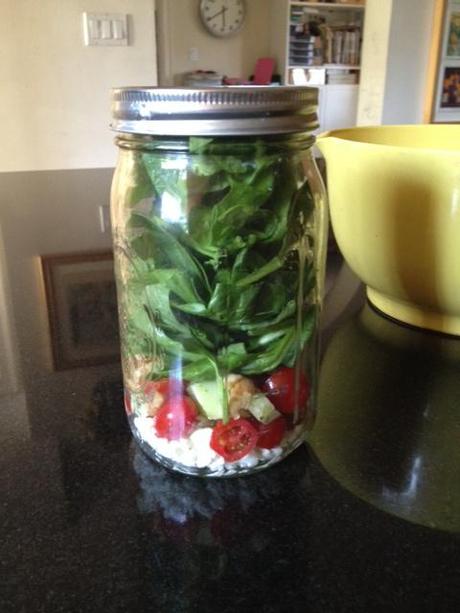 Last night I enjoyed Salmon over Greens. For lunch I prepared my salad-in-a-jar and served the left over salmon on top. Here's last nights meal, followed by todays lunch.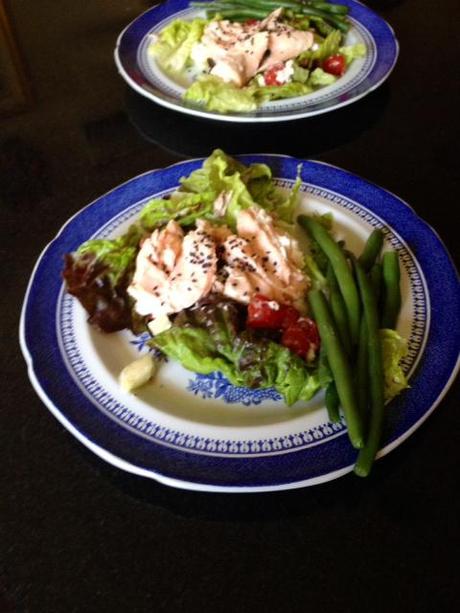 I chopped up the green beans to serve in my salad. I layered – from bottom to top oil & vinegar, feta cheese, green beans, strawberries, loosely packed lettuce with just a Tablespoon of chopped walnuts and seal the jar to refrigerate. For lunch I simply shook the jar to toss the salad and evenly coat and poured it into my dish. Then topped with the leftover salmon. Here it is, voila!!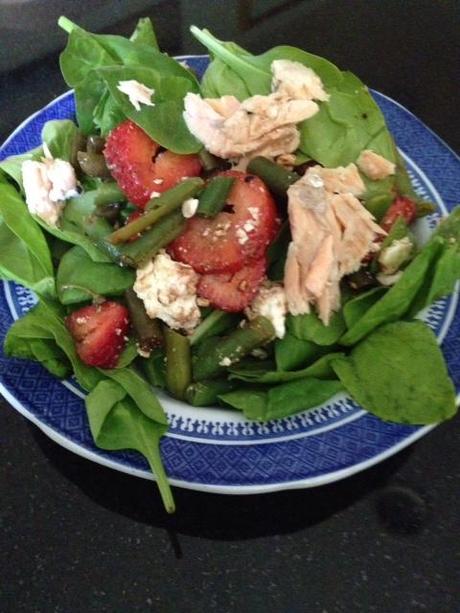 Filed under: diet, healthy lifestyles, Nutri-Savvy, nutrition, Recipes, Simple Meals