Colour in the garden at last! With the warmer temperatures and welcome sunshine, plants that have been in bud seemingly for weeks are finally in flower. Mrs McGregor's cutting garden is full of much needed material and blooms are being put to use in vases!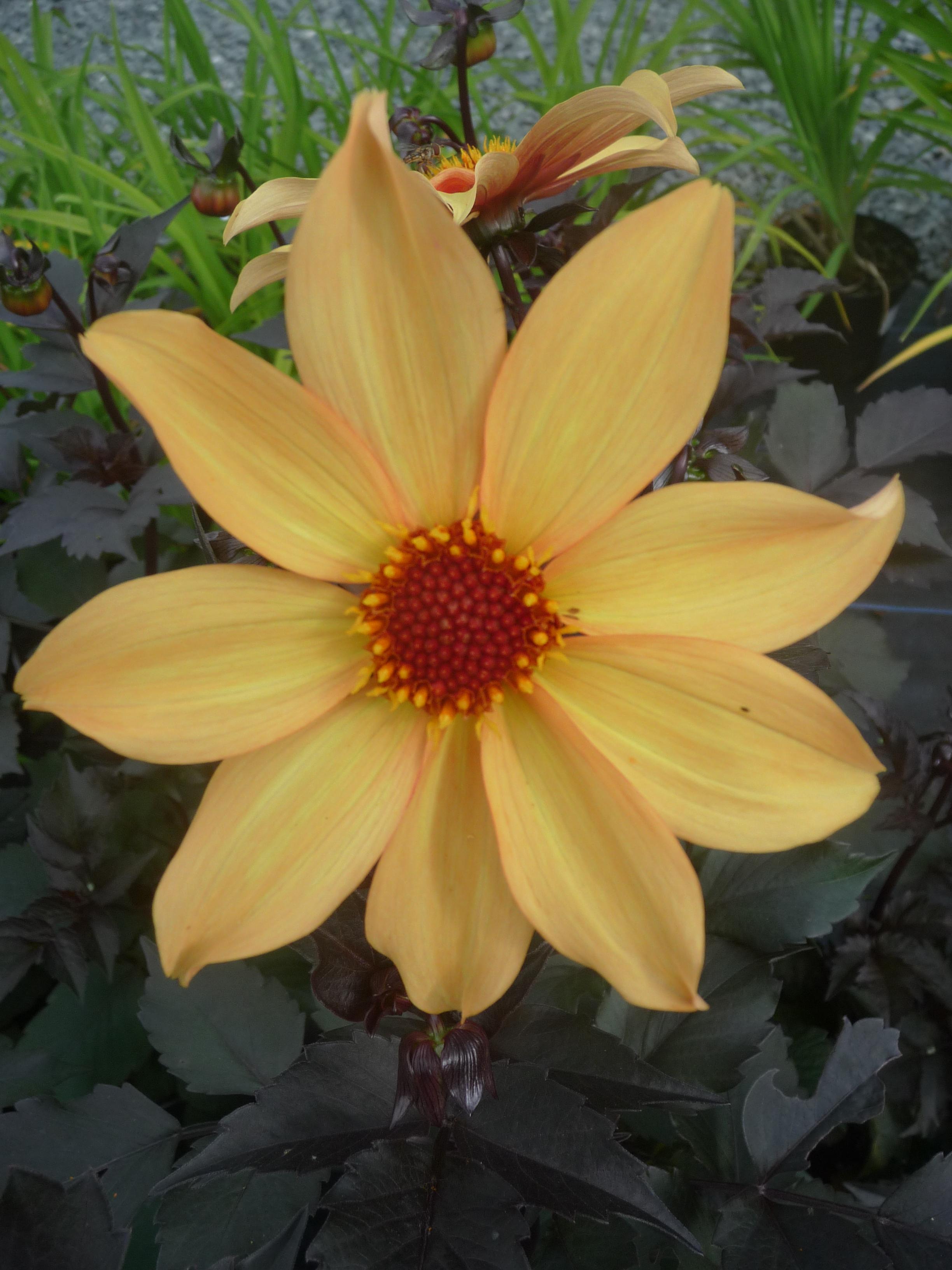 Dahlia Bishop of YorkDahlias are such valuable flowers for cutting – they are like Sweet Peas in that the more you cut, the more are produced, but they last for much longer than the super scented Peas. I would not be without either. To me, part of summer is burying my nose in a huge bunch of Sweet Peas, freshly picked with morning dew glistening on the petals. They alone can scent a room and we are rarely without them through the summer months.

But Dahlias last better in water and I have to admit to being very fond of them. There is a huge range available and next spring, I will be visiting my local Notcutt's garden center to choose from the range of tubers available in packs. For now, we have a few dark leaved favourites in the cutting garden including the bright red 'Bishop of Llandaff', 'Bishop of York' with warm golden yellow blooms and 'Mystic Illusion' which has cool, lemon yellow flowers with attractive rounded petals. All of these are loved by bees and hoverflies as well as some butterflies.

Other flowers that have done well include annuals, such as the royal blue Cornflowers and mixed pastel colours of Larkspur, both of which add a country house feel to a vase when arranged in blowsy bunches. We have also included some perennial Geranium phaeum varieties in the cutting garden. All of these early Cranesbills make excellent cut flowers lasting well if they are picked with a few of their nodding buds opening their reflexed petals to reveal the pointed star like center. Geranium phaeum has darkest purple flowers but we also grow G. phaeum var. album with greenish white flowers – easy to associate with other colours in arrangements.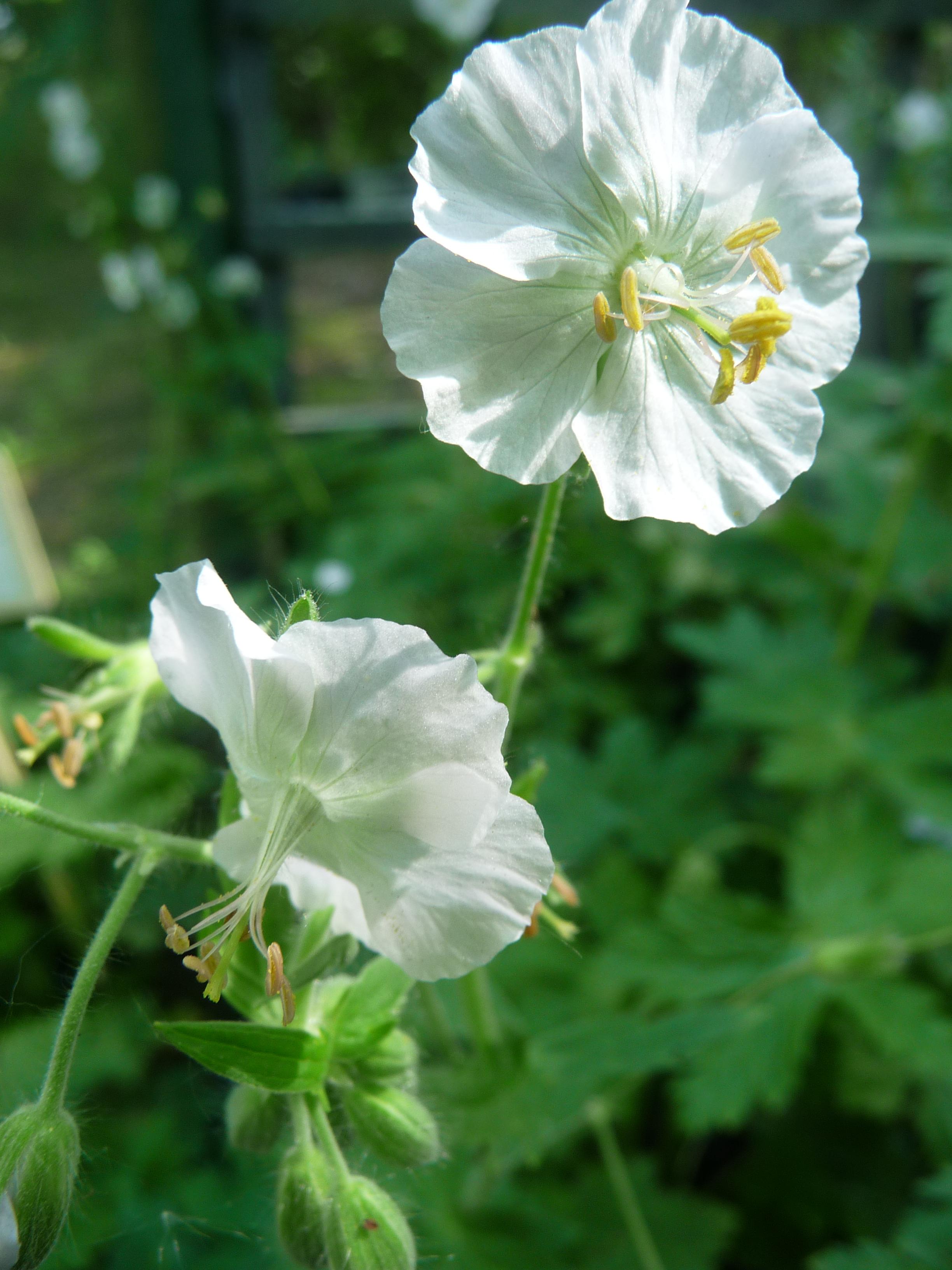 Geranium phaeum albumOne of Mrs McGregor's favorite 'fillers' for arrangements is Alchemilla mollis (Ladies Mantle) another perennial with cloud like sprays of tiny, acid yellow flowers in spring and early summer. As well as being invaluable for fresh arrangements, Alchemilla can be dried for winter use. 'Love in a Mist' (Nigella), another annual, has attractive blue flowers and seeds voraciously once you have it in your garden. The bulbous seed capsules begin pale green and dry on the stems to buff colours – again they are invaluable to add texture to fresh and dried arrangements as well as creating an unusual contrast in borders.

As well as the Dahlias which will flower for months, there are plenty of other blooms to keep the vases full right through the summer and into autumn, including Gladiolus, Penstemon, Solidago and Achillea. Many of these plants are loved by bees and butterflies, so the cutting garden serves two purposes – providing color for the house as well as food for pollinating insects.

Happy, colourful, gardening everyone!

Mr McGregor