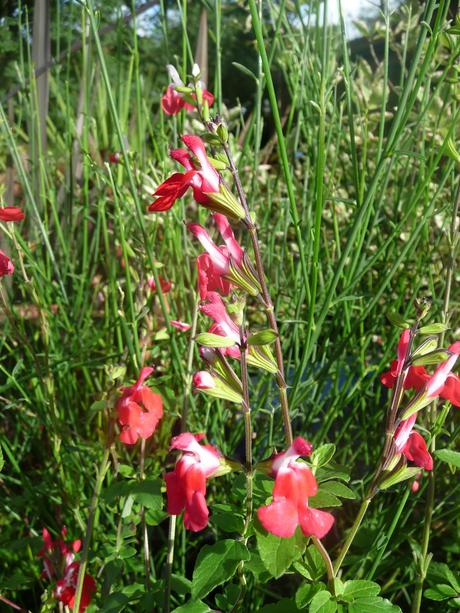 Salvia Hot LipsOur local branch of Notcutts has been filled with a tempting range of summer bedding plants for weeks now and this weekend I am going to plant up more containers. The green and white borders that surround the patio outside the dining room give a cool feel through the hot summer months but we like to add pots for spots of color.
I have cleaned them out the last of the empty ones and saved the crocks from the bottom. I make sure that fresh compost is used every time I replant them to save trouble from Vine Weevil grubs - a few bags of compost will not break the bank and the results are much better than trying to make do with soggy, stale compost that has no goodness left in it and may contain Vine weevil eggs!
As well as fresh compost, I have also purchased 'Water Magic' crystals which are added to the compost to help hold moisture. Last year I did not use these and was caught out on several occasions when the weather was sunny and breezy, returning home to find my plants in serious need of a drink! The crystals, along with Miracle Gro slow release fertilizer granules are added to the compost and mixed in well. Although the fertilizer granules will last for several months, I like to make sure that I don't run out of liquid feed to add once a week. Notcutts 'Pour and Feed' is excellent for this and I always make sure that I have some in the shed!
The range of half hardy perennials suitable for summer color in pots grows each year and as well as trailing plants for edges there are some beautiful flowering Sages (Salvia) that bloom for months. They are ideal plants to grow in pots as they don't mind being on the dry side so will forgive me if I forget them once in a while! Salvia 'Hot Lips' is a real stunner with deep red flowers that turn white in hot weather. The plant also has scented leaves and the flowers are loved by bees. I kept a plant in a pot through the winter by putting it in our greenhouse and keeping it dry. It has sprung back into life and I am looking for other Sages to plant in small pots so that they can be grouped together in a sunny spot.
Another half hardy that I am very fond of is the Chocolate Cosmos (C. atrosanguineus). This plant hails from Mexico and is difficult to overwinter, even under cover, but the scent from the flowers is amazing! They really do smell of chocolate and are a deep, chocolaty brown color – just the thing for a pot in sun or part shade. Again they appreciate dry soil and will flower until the first frosts of autumn.
As well as small pots which will hold single plants, I have several larger ones and these will be filled with a mixture of smaller plants including the beautiful white Bacopa 'Snowflake' that can trail over the edges along with Verbena and Calibrochoa to produce a frothy mix of flowers.