I met with a buyer yesterday to take some measurements in what is soon to be his new home. This was our second measuring visit... this time he also wanted to check to make sure the blinds he had already ordered and received were the correct size... they were!
He had already purchased some appliances and furniture... wanted to check some specific spots to see what other items would fit. As he pulled out his big 3-ring binder I was so impressed that I asked if I could share his great idea... he said yes!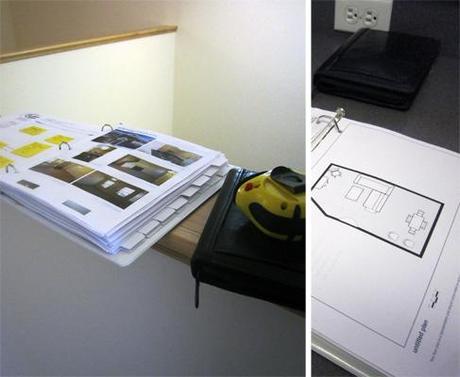 What was impressive about his notebook was not only his measurements and floorplan for placement of furniture... it was also the central filing system for orders, receipts and photos of everything he is buying for his new home. It's also a great place to store paint colors and purchase information for each room. It will be his 'go-to' spot to look whenever he has any questions or problems with any of the items he purchased.
When it comes time to sell, it will be a resource buyers will also love... they can know exactly what, when and where all of the items that stay with the home were purchased. I can see this would also be a great place to store all maintenance and repair records. Rather than having records and receipts scattered (or lost!) in multiple locations, this HOME BINDER is a great place to store and keep all things in one central place.
Sharlene Hensrud, RE/MAX Results - Email - Minneapolis-St. Paul Buyer's Realtor