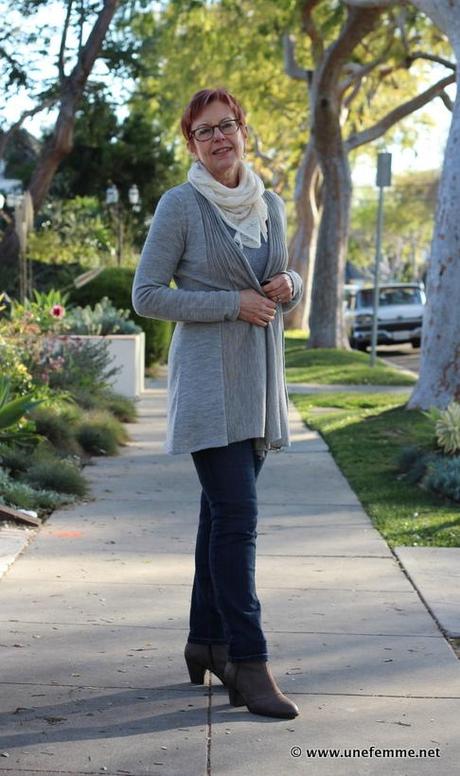 It will probably not surprise any of you regular readers that I'm already thinking about my travel capsule wardrobe for our 2-week+2-day trip to Scotland and England in just a little over 8 weeks. The excitement and anticipation of the planning process is part of the fun of travel for me, and that includes figuring out what to pack.
I'm planning to keep my luggage to two carry-on bags (one rolling suitcase and one "personal item" large tote), which means a capsule of lightweight-but-warm layers and pieces that (mostly) can be hand washed and hung to dry overnight if necessary. Neutrals are key, but I'm challenging myself this time to include more pieces in lighter neutrals such as gray and fewer in black. This ensemble worn with a lower heeled shoe would be a great option for traveling and sight-seeing, and includes a few pieces I'll definitely be working into my capsule.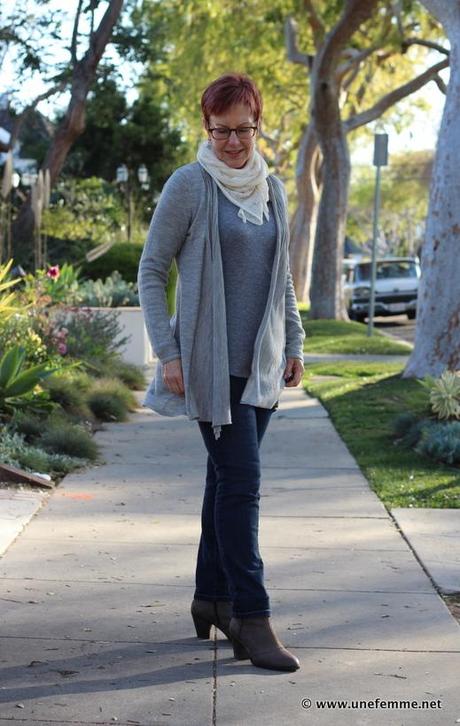 As a base layer here, I'm wearing a 3/4 sleeve tee provided by Adea clothing. Fabric technology has really come a long way; it's not your Aunt Goldie's polyester anymore. These new microfibers breathe, wick moisture, and help regulate body temperature. Adea clothing is manufactured in Italy, using an Italian-made microfiber fabric. They offer a wide range of items including tops, underpinnings, leggings, and casual clothing items.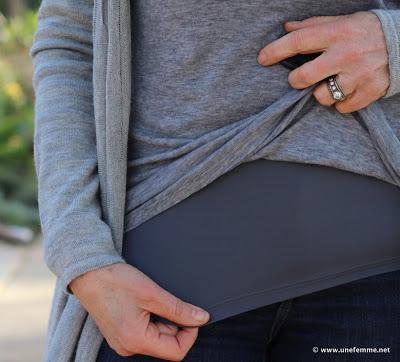 While this top is a bit too "body conscious" for me to be comfortable wearing on its own, it really does function beautifully as a base layer under other pieces, due to the close fit and almost weightless and silky fabric that doesn't catch or bunch up even with another snug layer over top. Unlike many women my age, I tend to run cold and appreciate how this keeps me warm without feeling overheated. (Especially helpful when traveling and dealing with cold airplanes, sauna-like hotel lobbies, freezing conference rooms, that outdoor heater stuck on MAX just over your left shoulder...you get the picture.) There are also tanks, camisoles, and short-sleeved tops too for my warmer-blooded sisters. My shirt is available in a wide range of colors, as are many of the other items on the website. All pieces are machine washable, and this one dried within a few short hours on a hanger.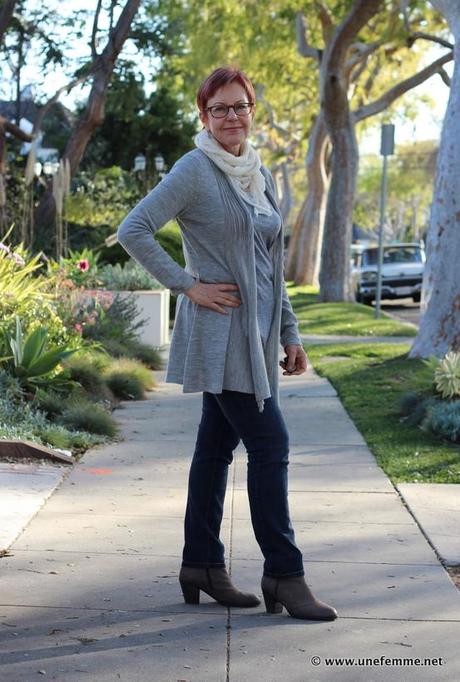 The cardigan is new, purchased during our vacation in Colorado from a new shop called Camelid Connection, and is 100% Alpaca. It's a lovely, lightweight sweater, perfect for travel and something I'll be able to wear most of the year here in coastal LA. Unfortunately the shop doesn't yet seem to have a functioning website, but their clothing and accessories are beautiful and unique, all Alpaca or Vicuna yarns, and handmade in Peru. If you're in Beaver Creek, Colorado, be sure to stop by. And did you know that llamas, camels, alpacas and vicunas are all descended from a common ancestor that originated in what is now the southwest region of North America?
Other pieces...
Tunic sweater: Eileen Fisher, here.
Jeans: NYDJ "Alina" Leggings, here.
Boots: Paul Green, similar.
Scarf: Eric Bompard, here.
How do you plan your travel wardrobe? Are there any items you never travel without?
Disclosure: Adea top provided in consideration for review. Actions taken from some links in this post may generate commissions for www.unefemme.net.
~All original content property of http://www.unefemme.net This work is licensed under a Creative Commons Attribution-NonCommercial 3.0 United States License.