Many gardens harbor enough fresh material to 'knock up' the odd flower arrangement but for more serious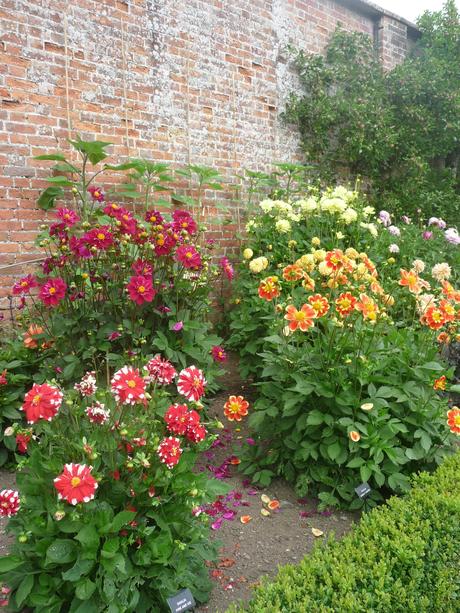 florists a cutting garden is often the easy way to save money and ensure the freshest of blooms, cut at precisely the right stage so that they will last well in water.
The best cutting gardens are planned carefully to contain a mix of plants mainly to provide flowers. Evergreen material and plants with interesting leaves or fruits are often contained in other parts of the garden along with many flowering shrubs that can be the backbone of arrangements but are too bulky to grow in a cutting garden unless it is as a shelter belt or hedge.
One of the first things to consider when planning your area is when you will need the material. Perhaps this is a 'one off' to supply flowers for a christening or wedding? In this instance you may like to use a range of annuals or perennials grown from seed. There are plenty of varieties available to sow over the next few months that will ensure copious quantities for the vase and some will flower in only a few weeks from sowing. Cornflowers, Calendula, Nigella, Larkspur and Sunflowers are all easily grown from seeds sown directly into the ground in rows and all give a country meadow feel to arrangements. Successive sowings every two or three weeks through spring and early summer will ensure a regular supply of blooms either for the house or other arrangements.
As well as seed raised plants, there are the tubers and corms of summer flowers such as Dahlias, Lilies and Gladioli to consider. These can also be planted straight into the ground in April and May, once the soil warms up, and the taller varieties given support from stakes and string. An outstanding selection of these beautiful summer and autumn blooms will be available in packets as tubers or corms from Notcutts garden centres over the next few weeks. Gladioli are one of the most reliable of cut flowers available in a range of colours from crystalline white to woodpecker green and deepest black purple with many colours between. No cutting garden should be without at least one variety of Dahlia but which to choose? There is a huge range with different flower shapes from 'cactus' to 'pom pom', singles and doubles with another bewildering choice of flower colours. They are one of the best value for money plants that the flower arranger can grow – the more you cut, the more buds are produced but beware! Cut the flowers only when they are almost fully out. The tight, wax like buds will refuse to open in water even in the warmest of spots. 
Many herbaceous perennials are invaluable for cutting and if you do not wish to decimate your borders why not find room to grow some of your favourites in rows especially for the scissors? Michaelmas Daisies (Asters) are a good place to start – useful for their autumn flowers that are so long lasting in water.  Sometimes the most delicate looking of flowers turn out to be amazing in a vase. The border Cranesbill, Geranium phaeum has sombre looking deep purple flowers but is also available in a range of paler purples, dusky pinks and a beautiful greenish white variety if you are lucky enough to find it. An armful of these will fill a vase in late spring and last for weeks. The bell shaped flowers of Campanulas are another winner in water, adding a country touch to summer arrangements or perfect as a big bunch on their own.
Whatever you choose to grow in your cutting garden, remember to pick often to extend the flowering season and don't forget to change the water in your vases every few days to ensure the flowers stay fresh for the longest possible time. 
They will also supply blooms over a long season, perhaps beginning in early spring with Daffodils and continuing until autumn when plants that include Dahlias and those with interesting seed capsules such as Physalis will be at their best.