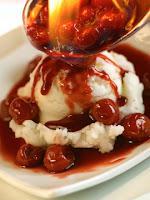 I can't resist posting these!   Great Plane food (not Plain --- Plane)  : )
Cherries Jubilee
Serves 4
4 tbsp. butter
½ cup sugar
1 tbsp. cornstarch
1 (16-oz can) pitted cherries, drained, juice reserved
¼ cup orange juice
¼ cup brandy or cognac
4 cups vanilla ice cream
1. In a saucepan over medium heat, melt butter. Whisk in sugar and cornstarch. Stir in orange juice and ½ cup cherry juice. Bring to a boil, whisking until sauce thickens. Stir in cherries and bring to a boil again.
2. Remove the pan from the heat. Pour in the brandy or cognac, and ignite the alcohol. After the alcohol burns off, spoon the cherries over vanilla ice cream.

Braised Short Rib of Beef
Serves 6-8
8 beef short ribs, 2 inches thick and about
7-8-inches long, trimmed of excess silver skin and fat (5-6 lbs)
1 cup light brown sugar
½ cup kosher salt
1-tablespoon Chinese five-spice powder
1 tablespoon powdered ginger
2 tablespoons canola oil
2 carrots, peeled and diced
2 celery ribs, trimmed and diced
1 Spanish onion, diced
3 cloves garlic, minced
2 tablespoons tomato paste
2 tablespoons ginger, peeled and minced
1 orange, zested and juiced
2 cups ounces beef stock, plus more if necessary
1 ½ cups chicken stock
Combine brown sugar, salt, Chinese five spice powder and ginger and rub all over ribs. Cover and refrigerate overnight or up to 2 days.
Remove ribs from refrigerator; do not rinse.
Preheat oven to 400ºF.
In a large roasting pan sear ribs over medium-low heat until golden brown on all sides, 10-12 minutes, being careful not to burn.
Remove ribs from the pan and carefully discard all but 1 tablespoon fat.
Add carrot, celery, onion and garlic and cook until onions are translucent, 8-10 minutes. Add tomato paste and cook, stirring, an additional 2 minutes. Add ginger, orange juice and zest, beef stock and chicken stock and bring to a boil.
Return ribs to pan, bring back to a boil, cover tightly and place in oven until tender and meat is falling off the bone, checking every 30 minutes and adding additional beef stock or water to ensure liquid covers at least ½ of the ribs.
Carefully remove ribs from liquid, then skim as much fat off top of the cooking liquid as possible.
Simmer liquid until reduced by 1/3, about 15 minutes.
Serve ribs with some of the sauce spooned over it.
Serve with seasonal vegetables, creamy polenta or simple mashed potatoes.
 Recipe by Michelle Bernstein, executive chef for Delta
Source: 
http://www.people.com/planefood