Chief Architect Software is known in the remodeling industry for providing builders, contractors, and homeowners with an easy to use tool for creating 3D home designs. Their new Room Planner app for iOS and Android is a continuation of this tradition. The app allows both professionals and amateurs in the industry to quickly produce as-built renderings that show how the remodel will look upon completion. It will even create a 3D model with the kitchen table, living room decor, bathroom sinks, and everything else included. It goes hand in hand with their Chief Architect desktop program, allowing users to wirelessly sync their new designs and finalize the details on the powerful software.
Remodeling is a challenge for both professionals and the average homeowner. Room Planner helps make the process easier in a variety of ways. Taking measurements of an interior space is a time consuming process when done using pencil, paper, and a tape measurer. The app can receive measurements directly with a bluetooth laser meter. The measurements are automatically updated and you can quickly have an accurate plan to start working with. For contractors and remodelers, this makes it easy to show clients their possible options. It is also helpful for reducing human error and getting accurate measurements without moving furniture around.
One of the most interesting features of the Room Planner app is the ability to take virtual tours of your new interior. The 3D mode creates a dollhouse version of your plan and allows you to walk through it using on-screen controls. You can edit the types of furniture, materials, and even the colors and patterns on walls to create an accurate model. Furniture can be resized to make sure it will fit. Using the tablet's gyro sensors, you can physically move the tablet and view the room as if you were actually in it. Take a step forward in real life and you move a step forward in the 3D model too! Check the system requirements to make sure the app works on your iOS or Android device. There are pay and free versions but be aware that the free option doesn't allow saving projects.
Read The Full Article & VIew Pictures on KBBonline.com
Be sure to follow the Trade Winds Imports Blog for more information and news from the remodeling industry. They provide customers with stylish bathroom vanities and products in various styles, from traditional to modern. Check out their website when planning your next bathroom remodel.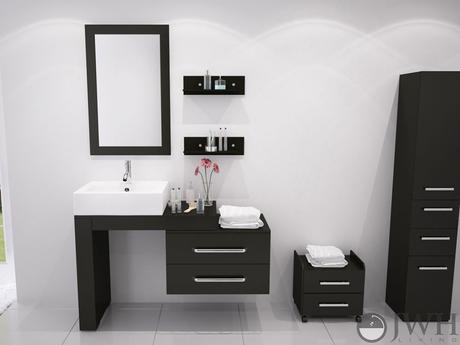 Scorpio Single Vessel Sink Vanity