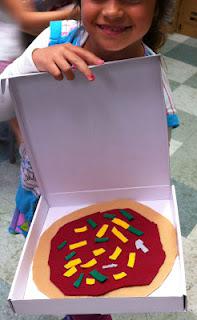 Sometimes I just get the greatest donations of supplies. Recently, yards and yards of felt appeared at my door. Then some white boxes were left over after the flowers inside were all used up. You couldn't buy a better combination to make the easiest and most fun pizza project ever.
1. Students need scissors that are sharp enough to cut through felt, but are still safe. I found some 99¢ Store ones that worked pretty well, but were not totally reliable – good art scissors might be best. Students were given a beige square that they cut into a circle, and then a smaller burgundy square they cut into the sauce. Gray, yellow and green felt squares were cut into shapes for mushrooms, cheese and green pepper. No glue is necessary, these felt shapes just like to stick together.
2. You can buy 12" white pizza boxes online, here is one example. Students may use Sharpie markers to write their pizza store name on front.
Thanks to Katharine, a 1st grader, for letting me share her yummy pizza!