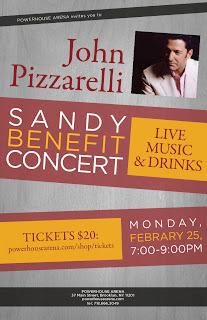 My good friend and jazz guitarist extraordinaire John Pizzarelli will be doing a special concert shortly I thought I would bring to your attention.
On Monday night, February 25th at 7 PM, John will be playing a show in Brooklyn at The Powerhouse Arena, at 37 Main Street. The show will be a benefit for the victims of Hurricane Sandy.
The Pizz (as we like to call him) always puts on a great show, and if you'd like more info about getting tickets (which are $20), please click this link.
His recent book about his life is a very good read as well, and worth picking up. You can check that out here.