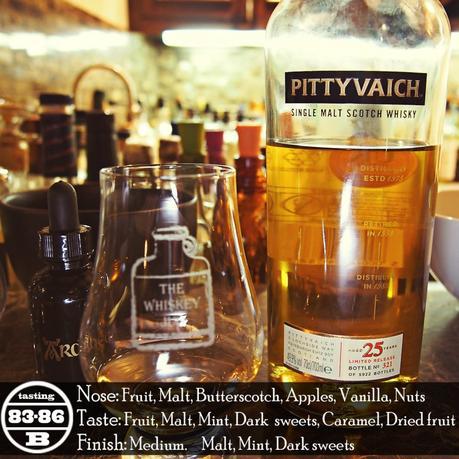 This Pittyvaich 25 Years is part of the 2015 Diageo Special Releases and comes from a dead distillery that was in operation for just 18 short years. Despite being built by Arthur Bell & Sons as a source of "generic malt" for their blends some reportedly excellent releases of Pittyvaich have beer released by NDPs. This is the second Pittyvaich I've had (2nd review coming) and in both cases I didn't find them to be excellent, but definitely tasty.
Pittyvaich was founded in 1974, started distilling in 1975, became Diageo owned in 1987, closed in 1993 and was demolished in 2002. There's not much else to say about its short and relatively unremarkable existence, but what's remarkable is that since its demise it's had 2 official bottlings (OBs) which is a fairly rare occurrence. The first was in 2009 when a 20 year release showed up in the Diageo Special Releases and then there's this one, the Pittyvaich 25 Years.
Pittyvaich 25 Years Info
Region: Speyside, Scotland
Distiller: Pittyvaich
Mashbill: 100% Malted barley
Cask: Hogshead
Age: 25 Years
ABV: 49.9%
Cask Strength
Bottles: 5,922
Price: $550
Pittyvaich 25 Years Review
EYE
Honey
NOSE
Fruit, malt, butterscotch and apples with a touch of vanilla, nuts and dried fruit. A bit on the MOTR side of things, but pleasant.
PALATE
Fruit, malt, mint, dark sweets, caramel and dried fruit is accompanied by a touch of wood, earthy hay, nuts and acetone. The palate is definitely better / more complex than the nose.
FINISH
Medium fade of malt, mint and dark sweets.
BALANCE, BODY & FEEL
Good balance, medium body and waxy feel
OVERALL
Pittyvaich 25 Years didn't come across as overly complex or dynamic, but it was rather nice. On the whole It was basically just a decent Speyside whisky and if it weren't $550 I'd probably pick up a bottle, though when you consider the price of whiskey from most dead distilleries these days it's really not a terrible deal. In fact, it's sitting at such a not-quite-terrible-for-a-unicorn place that since trying it at LAWS I've been considering a bottle.
Mind you that consideration is more in the "if I get a promotion or nice bonus at work" kind of a consideration and not an actual i'm-going-whip-out-my-credit-card-and-buy-it-right-now kind of consideration. Which might sound a bit odd coming from someone who's typically fairly pragmatic when it comes to whisky purchasing, but when it comes to dead distilleries I'm willing to splurge a bit more. It's like owning, and tasting, a piece of distilling history and unlike the annual bourbon releases, which trade for as much or more on the secondary market, when this whisky is gone it's really gone.
SCORE: 83-86/100 (B, not consumed at home)