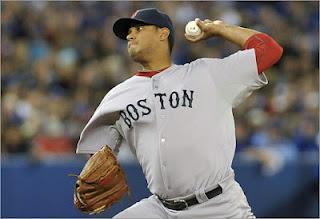 Thank goodness there won't be an 0-6 start for the second consecutive year.
Felix Doubront (pictured) gave the Red Sox a shot in the arm last night, going five innings and allowing just two runs in his first ever MLB start in Toronto. He didn't get the victory, but had just one shaky inning, the third where he allowed the two Blue Jays runs.
But the two heroes of last night's 4-2 Red Sox come from behind win were Dustin (La Luna) Pedroia, who hit his first home run of 2012, and doubled and scored the tying run in the ninth, and Scott Atchison, who was superb in relief of Doubront, allowing just an infield single in three innings.
The Sox scored three in the ninth, on Adrian Gonzalez' sca fly, and a meltdown by Toronto closer Sergio Santos. He couldn't find the plate, walked two, and they both scored. The first on Ryan Sweeney's RBI single (pinch runner Darnell McDonald would have been out by a mile if the throw had been on line), and then another a wild pitch.
Alfredo Aceves came on (I was in another room on the computer but turned the sound up loud so I could hear it, as I thought by not watching it might be a better idea) and he got the Blue Jays 1-2-3 to wrap up his first save (and bring his ERA from infinity to 9.00) and the first Red Sox win of 2012. A much needed win.
Daniel Bard makes his first MLB start against the Jays. I would guess the calls for his return to the pen have quieted just a bit today.