The route from Ninigo to Vanimo, our next port of call, is a slightly awkward distance that can be stretched a few different ways for passage timing. We decided to build in a stopover at Wuvulu Island. Roughly halfway to Vanimo, we don't have a lot of information about the island except that it was one of Jean-Michel Couseau's favorite diving spots, and the site of a failed resort he hoped to establish.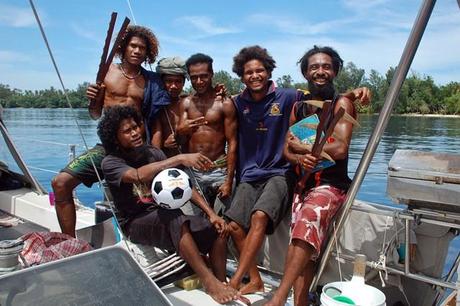 A slightly intimidating "welcoming committee." Note traditional weapons spiked with shark teeth and bone. Uhhhhh huh.
We slow motored into the south-facing bay, wondering if we'd find a place to drop the hook. It wasn't long before Wuvulu's version of the welcoming committee was paddling like crazy in our direction.
The dugout reaches Totem, and after a quick chat, we invite the crew on board. They say there's a spot where we can anchor off the other side of the bay, and pilot us across to find it.
Along the way, we learn about each other. The first question that Hari, the leader (or at least the guy with the best English) asks us is if we know Ben and Lucy. Ben and Lucy? It seems this German cruising couple visited Wuvulu. They were here… five years ago. No, we haven't met them! It seems Wuvulu doesn't get many visitors.
We answer the usual questions about where we're from, how long we've been traveling, what the children do about school. They tell us about the size of the island, their language, their crafts and professions. Despite their somewhat intimidating outward appearance, it's a friendly bunch of guys.
The anchorage spot is an area just off the village where the fringing reef was dynamited to allow for boat access. It turns out to have just enough depth (we draw 6'), but not quite enough swing room for the two of us (we're in company with our friends on sv Sea Glass). We won't be able to stop overnight. As a consolation, we decide to just drift in the area off the anchorage. Jamie stays on board alternately drifting and motoring to stay in the area, while the children and I pull on our gear and jump in the water.
It is beyond spectacular. Among all the places we have been snorkeling- and there are some amazing spots- this easily ranks among the best. The fringing reef is only a few dozen meters, then drops nearly straight down. Totem's depth sounder measures up to the low 1,000 feet level, but just a few boat lengths from the wall we aren't able to sound the bottom. The clarity is stunning: looking down the wall, one peers through layers of reef life. Oh, to be here with scuba gear, a safe anchorage, and time! We count more turtles and sharks in 30 minutes than we've seen in almost three months. The size, varity, and sheer numbers of fish and corals are amazing.
Back on Totem, we trade for some beautiful (and terrifying) crafts. They're weapons, made from a hardwood called Gah which they say is grown on Wuvulu, adorned with sharp shark teeth and pointy bones in all the right places to really do damage. They're morbidly fascinating and I can't resist making a trade. John Robin is the carver, and proud of his work. We start trading for one, but John says we should have two. OK! One snorkeling mask and a bag each of rice (2kg), sugar (1kg), flour (1kg) and salt (500g), and a happy agreement is reached.
Asking the guys about the reef, we're told that the community restricts where spearfishing is allowed: because it is banned from this reef in front of the village, marine life thrives. We recall a similar experience in Vanuatu. When snorkeling in an area where the locals were restricted from fishing, we saw the largest examples of many species we'd seen across the Pacific. It seems like a simple practice to keep a healthy balance in the reef: why is it so hard to put in place? How much of the problem is education, and how much is limited resources? It's not something we can know from our perch.
Reluctantly, we leave Wuvulu behind for our overnight run to Vanimo. Cleaning up the cockpit, we realize John has left us a third carving- and left behind the mask we offered. Wuvulu is facing on the horizon, so we hope these were both intentional. Later conversations between cruising boats suggest some reputation for troubles on the island: the vicious looking weapons offer some contrast with the peaceful experience of swimming among creatures in a thriving reef, but perhaps some insight into facets of the island as well.