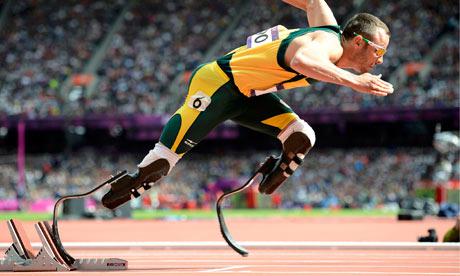 Forget Andy Warhol. Fifteen minutes no longer matter – 9.63 seconds do.
Usain Bolt's historic victory caps an incredible weekend for Olympic sports, which also saw national hero Andy Murray finally gain gold-medal-winning retribution against Roger Federer for his defeat at Wimbledon a month ago.
Allow me to get patriotic for a moment. I am proud of Team GB and their jump in medal tally over the weekend (seven on Saturday, eight on Sunday). They have shown enormous pluck, among them Christine Ohuruogu, Chris Hoy and Jessica Ennis – to name just a few – and of course, Murray's win in the men's singles tennis was out of this world. I am not surprised at other's suggestions that the BBC Sports Personality of the Year award be cancelled in favour of a massive party to tell Team GB how brilliant they are.
But for me, Oscar Pistorius was my greatest hero. A representative of South Africa he may have been in the men's 400m, but he was also the first amputee ever to compete in the Olympic Games.  In that moment when he and his carbon-fibre blades self-consciously stepped out into the heaving stadium, he hit a far more significant milestone than Usain Bolt could ever hope to achieve that day.
People speak of taking pleasure in pain. I felt nervous for Pistorius as he fiddled with his prosthetic socks before the race started, and almost excruciating pain at the sight of him finishing last in the semi-final. Within that pain – I am sure Pistorius is crushed at not making the final – I nevertheless took pleasure in the knowledge that he was beaten not by prejudice, but by runners who simply had better times.
Lest we forget, his defeat wasn't due to his disabilities either; this was a bona-fide semi-final at Olympic level, and Oscar Pistorius had to beat thousands of other high-ranking, international, non-disabled athletes to get there.
It certainly took a lot longer than 9.63 seconds. Pistorius had to fight in court for the right to compete on a par with his non-disabled peers. Dismissed by the International Association of Athletics Federations (IAAF) as having "an unfair advantage" over the non-disabled athletes in 2007, he managed to get that decision reversed in the Court of Arbitration for Sport – and then didn't qualify for the South African team in the 2008 Olympics. How contrary can you get with that as evidence of his "unfair advantage"?
Pistorius had far more to overcome than his disabilities. (He'd achieved that a long time ago, having won gold in the men's 100m, 200m and 400m at the 2008 Paralympics.) He also had to overcome enormous attitudinal and institutional barriers in order to get into the Olympics this year.
Yesterday, he competed in the 400m semi-final not as a person with disabilities – but as a fellow sportsman and an equal. That is why his participation is such a cornerstone for diversity in modern times – and I especially love that it happened right here on my home ground.