PINO is one of the very rare brands in the spa and wellness industry that has a longstanding legacy. Founded in Germany in 1904, PINO has developed products and therapy concepts used by spas throughout Europe. Headquartered in Hamburg Germany, for generations now, spas have trusted PINO to provide proven, modern products for use in traditional European therapies.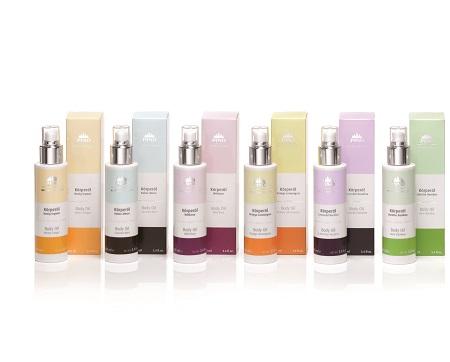 PINO Natural Spa Therapy – Body Oils
PINO also has a campus in Hamburg, where spa and wellness professionals advance their skills around innovative concepts. Here, therapists from all over the world master every level of expertise; another sign of PINO's century-long commitment to the continuing education within the wellness industry.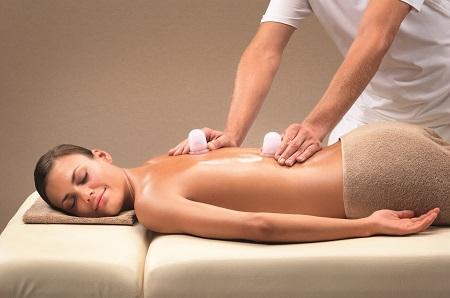 PINO Natural Spa Therapy – Detoxing Massage
PINO entered the wellness industry in 1904; the origins of the company lie in the German Black Forest where the company produced essential oils – later developed into health products and herbal medicines for European Baths and spas. Over time, PINO has increased its product offerings and treatment concepts, resulting in tailor-made solutions for professional physiotherapy, massage and balneotherapy therapists.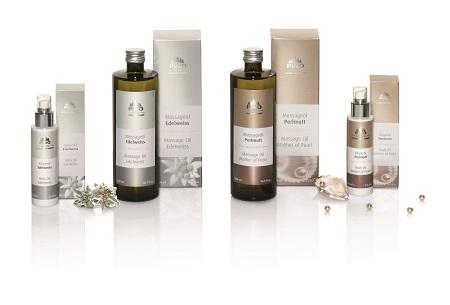 PINO Edelweiss Motherofpearl
Introducing its latest spa and wellness product range, Thomas Schade, Marketing Director and Thomas Drotleff, Key Account Manager from PINO Germany met with ABF and industry professionals at Cosmoprof Asia (2013) in Hong Kong, where the brand showcased their extended collection. A stand out item this year is the massage candle. This unique candle concept – when lit, combines the properties of scent and at melting point of 50 – 60 °C, the liquid functions of essential oils poured directly onto the skin for a pleasant and warm massage body treatment.
 PINO Natural Spa Therapy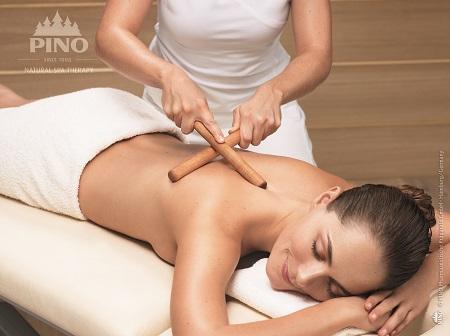 PINO Natural Spa Therapy – Anti Aging Massage
There are 8 professional size (back bar) massage candles made from 100% natural ingredients. The anti-aging candle has active ingredients all from high quality extracts of paracress, cranberry, and cacao that improve the micro relief of the skin and protect it from free radicals. At first, I was hesitant to have the warm liquid poured into my palm, however, the oil is so fine that it absorbs so quickly, creating a warm and relaxing experience.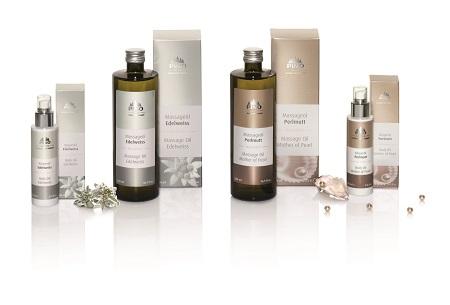 PINO Edelweiss Motherofpearl
PINO also has six of the back bar candles produced for home care; a great treat for rejuvenating the skin. An innovative concept, the candle can be lit any time to achieve harmony in mind, body and spirit for aromatherapy, and anti-aging.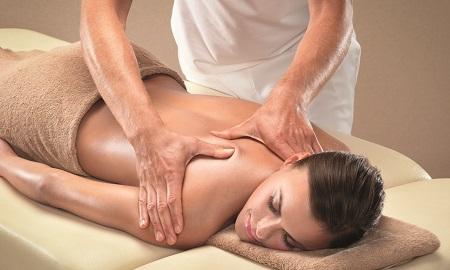 PINO Natural Spa Therapy – Aroma Massage
Featuring another core product group, the PINO collection includes 7 massage oils that have a wide spectrum of action on human body, action on its nervous, cardiovascular, digestive, endocrine and immune systems. All of PINO's Natural Spa Therapy products are dermatologically tested by an independent laboratory and never tested on animals.
PINO Natural Spa Therapy
A facial mask collection of Pomegranate, Milk & Honey and Anti-Aging add to the diversity of the range; they are a perfect addition to any massage treatment within a professional spa environment. With cutouts for mouth, eyes, and nostrils, each cloth sheet molds to your face, allowing the supply of replenishing moisture and Royal Jelly infuse the skin with a nourishing supply of rejuvenating nutrients for unrivaled skin elasticity. These facial masks can also be purchased for home use. Intriguing varieties, like the Milk and Honey facial mask, which is simple to apply for a soothing and easy way to improve your skin.
Reassuring for its high quality standards, PINO applies its extensive knowledge of the natural sciences and combines this knowledge with over a century of experience in the development of natural products.
Today, PINO continues its commitment to the ongoing development of natural, environmentally responsible products.