As Inspired By:
Minnie Mouse
I'm getting addicted to this whole, outfit post scenario, i'm not going to pretend that I'm not. I lay in bed last night just thinking about today's outfit and what I was going to wear. It's no longer a case of what will be suitable for the weather, or college or anything like that: it's now a case of "what is going to look good enough to put up on Vita di Moda!?" Maybe it's the fact I've been wearing an abundance of color and pattern over the last couple of weeks, instead of my usual black, gray and any other dark color that I can get my hands on: but the confidence I now have in myself, as well as what I put together outfit wise has sky-rocketed. I love it!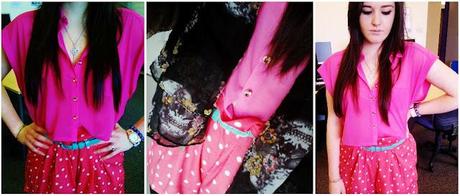 Crop top & Scarf: Primark // Shorts: New Look // Waist Belt: ASOS
The inspiration behind today's look came from my sister. She ordered some holiday clothes online - the shorts included - and decided that she didn't actually like them as much as she had previously thought once they had arrived. This is where it comes in handy to have sisters who wear the same size clothes as you, because said shorts ended up in my wardrobe. Oh, yes.
I teamed the shorts with my neon pink crop shirt, patent turquoise waist belt, rose gold watch, shamballa bracelet, crystal key necklace - three pieces of jewelry that I almost always wear, no matter what outfit I have on - floral skull print scarf and my trusty nude leather jacket. I felt like I should have had some mouse ears on, seeing as I had pretty much every other aspect of Minnie Mouse nailed to a T.
P.S: My W118 by Walter Baker trench arrived today - remember to check back for the post on that tomorrow!