Pineapple Kesari is an Indian dessert made with Sooji ( Rava , Semolina ) , ghee and some Pineapple Puree . This Kesari has  the  flavor of Pineapple that makes it more delicious  . I have made this pineapple Kesari Similar to my Rava Kesari Recipe . My kids absolutely loved this Pineapple Kesari . So now off to today's post Pineapple Kesari Recipe .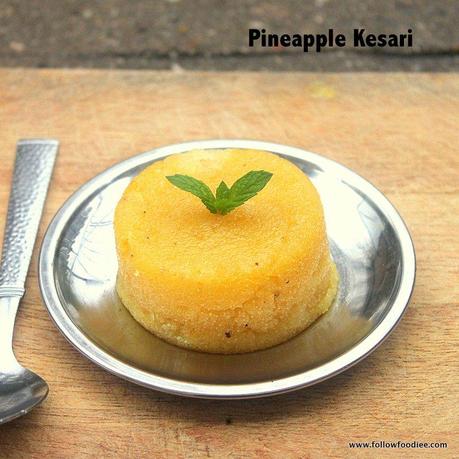 PINEAPPLE KESARI | HOW TO MAKE KESARI RECIPE | INDIAN SWEETS RECIPES
Pineapple Kesari - Ingredients
Preparation Time :
10
minutes
| Cooking Time :
15 minutes

Recipe Category:
Dessert
  | Recipe Cuisine:
South Indian
Semolina / Rava / Sooji - 3/4 cup
Water - 1 1/4 cups
Fresh Pineapple Puree - 1/4 cup
Sugar -  3/4 cup
Butter - 1stick
Yellow Food Color - 1 pinch( Optional )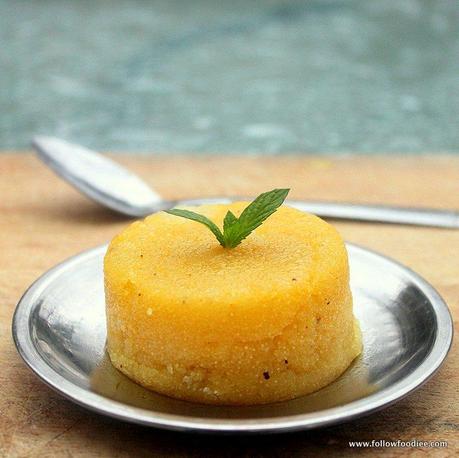 Method :
Take the chopped Pineapple slices in a blender . Puree them in to a smooth paste without adding water .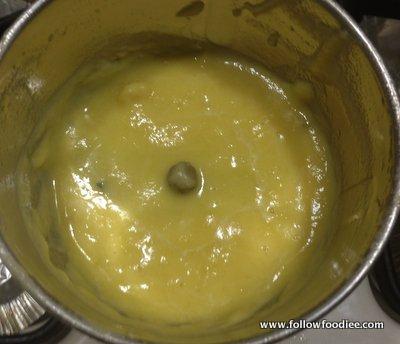 Melt the butter in a wok .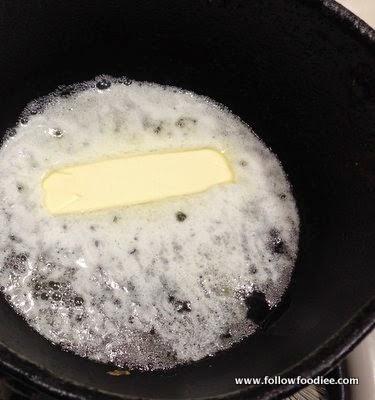 Fry the semolina ( rava ) in the butter till the raw smell goes away .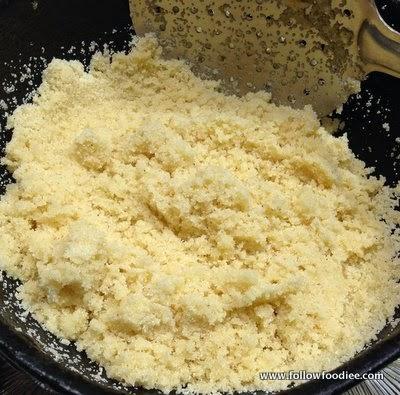 In a shallow pan add 1 1/4 cups of water  , Pineapple Puree , Yellow food color and bring the contents to a rapid boil.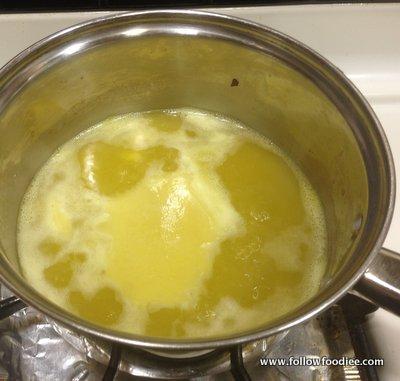 Transfer the boiling Contents  to the fried rava and mix that no lumps are formed and make sure that the rava / Semolina is cooked.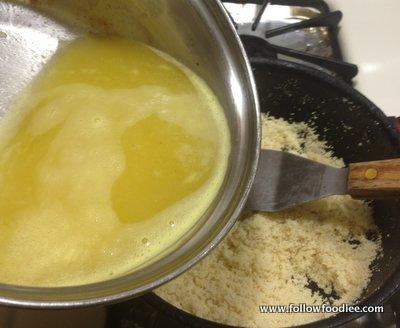 Add the sugar and mix till the sugar gets melted.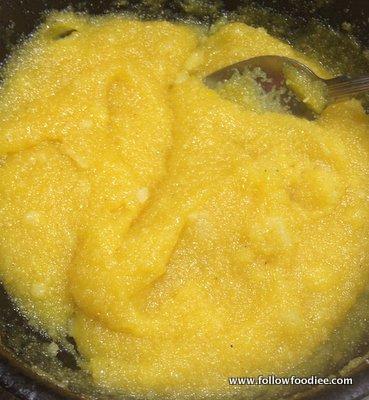 Turn off the stove  before the kesari gets thickened . The kesari should not be too watery nor too thick . Serve Pineapple Kesari warm.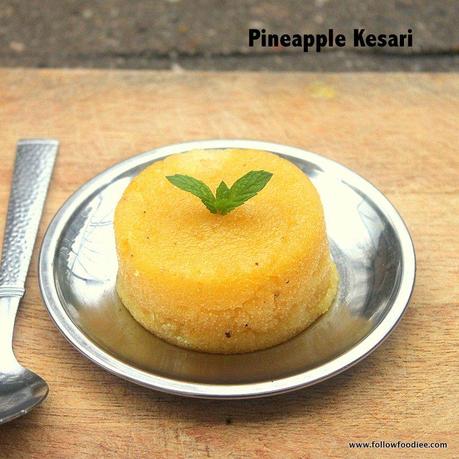 This is a wonderful and a easy dessert , One of my kids Favorite dish and it could be prepared in 15 minutes. Yummy Pineapple Kesari is ready to serve . 
Notes :
Adding food color to kesari is optional .
Butter can be replaced by ghee or Oil .
Fried cashew can be added to the kesari when serving . 
 Check out the other
Pineapple Recipes
in the blog below :
Pineapple Orange juice
Pineapple juice
Check out the other
Indian Sweet
, dessert recipes Posted in the blog below .
Pumpkin Halwa
Ladoo Recipe
Melting Mysore Pak 
Semiya Kesari 
Rava Ladoo 
Maida Burfi 
Palkova Recipe , Milk Sweet 
Rava Kesari
Poli Recipe
Beetroot Halwa  
Click
here
to view all the other Dessert recipes in the blog . 
If you like this recipe please like my Facebook page here to get regular recipe updates , or follow me on twitter here , pinterest here , and Google plus here to get regular updates of recipes