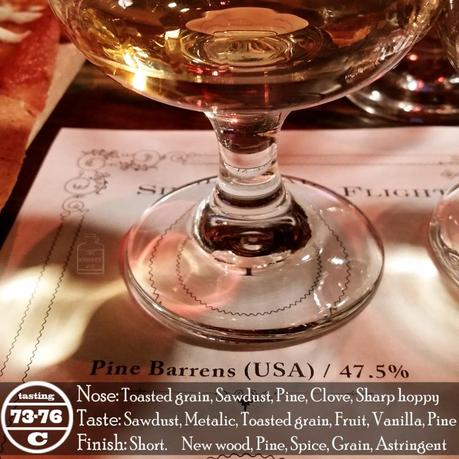 Pine Barrens American Single Malt Whisky is another addition to the list of whiskeys that have been distilled from finished beer. In this particular case the beer at hand is the Old Howling Bastard which is brewed by Blue Point Brewing in Patchogue, NY. Old Howling Bastard is an American barleywine that clocks in at 10% ABV, contains a high amount of hops giving it an IBU of 70 and the folks at Beer Advocate really seem to like it.
The completely finished barleywine ale is taken from the brewery to Long Island Spirits where it's 2x pot distilled and then aged in "petite" new charred oak casks. Per the reports I can find online that aging occurs for less than a year. It sounded interesting and was the whiskey that caught my eye for a flight during an evening at the Flatiron Room on one of my visits to NYC. Let's see how it all turned out.
Pine Barrens American Single Malt Whisky Info
Region: New York, USA
Distiller: Long Island Spirits
Mashbill: 100% Malted Barley
Cask: New Charred Oak (Petite)
Age: NAS
ABV: 47.5%
Price: $50
Pine Barrens American Single Malt Whisky Review
EYE
Yellow
NOSE
Toasted grain, sawdust, pine, clove and a sharp hoppy citrus-like note that buddies up with some astringency giving it an aroma that smells more like a cleaner than a whisky.
PALATE
The mouth is a similar story to the nose, but it starts out with that sawdust character which has a metallic twinge to it and gets followed by notes of toasted grain, fruit, vanilla, pine, clove heavy spice and more of that sharp hoppy citrus-like character that pairs up with an astringent kick.
FINISH
Short and woody in a new/young wood kind of way with light notes of pine, spice, grain and astringency.
BALANCE, BODY & FEEL
Unbalanced, medium body and a soft nearly watery feel.
OVERALL
Bottom line for the Pine Barrens American Single Malt Whisky is that, like so many other craft whiskeys out there, I would really like to see how this tastes after being put in standard sized barrels and for 2-4+ years. I would love to see what a slow mellow aging process does to this whiskey and see what layers of flavor and depth it would bring. As it sits now everything in the whisky is quite topical, light and harsh. Not a fan of its current incarnation.
SCORE: 73-76/100 (C, not consumed at home)