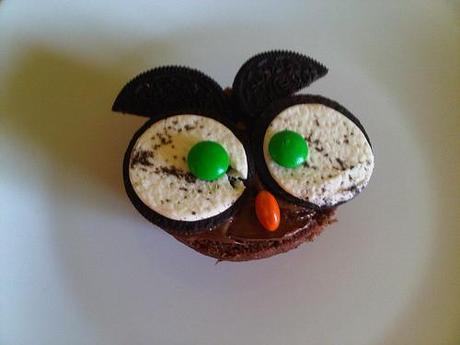 HI GUYS,
AFTER MY EXAM I WANTED TO DO A SPECIAL MUFFIN. IT'S TOO SIMPLE BUT WILL HAVE A BIG EFFECT!
TAKE 3 MUFFIN AND CUT ITS HAT (hihihi)
SPREAD NUTELLA ABOVE THE MUFFIN
DIVIDE OREO, TAKE CARE THAT REMAINS INTACT THE WHITE PARTY…SIZE IN TWO THE PART WITHOUT CREAM.
SEE THE PICTURE AND COMPOSE DE PIGEON! IT'S TOO EASY, BUT SO COOL AND BEAUTY.
THE INGREDIENTS:
MUFFIN
NUTELLA
M&MS WITHOUT NUT, FOR THE EYES AND THE NOSE
OREO.
SEE YOU SOON! Fabusho!