We live in a troubled society.  One that obsesses over the right way to do just about everything – how to eat, how to sleep, how to live.  Constantly questioning ourselves and whether or not our lifestyle is ever going t0 be as perfect as it would be in Lapland or some other Scandinavian territory where the quality of life is significantly higher than the outside temperature.  We hate ourselves because we're always going to be the stupid, fat Americans we see on television.
Well I've been to Scandinavia, and to be honest I thought it was pretty damn boring.  Sure, the people were nice to talk to and to look at.  But I would never describe them as perfect.  Just different.  I'd much rather live in California, surrounded by warm beaches, fake breasts, and Mexican food.
Maybe quality of life is more about attitude than lifestyle.  Maybe the fat guy who cooks with his children is healthier than the skinny chick who eats carrot sticks while watching Game of Thrones.  If you're not truly enjoying life – relishing those tiny moments of childlike joy – then who cares about your blood pressure or your BMI index.  You're not living, you're suffering.  You might be skinny, but you suck.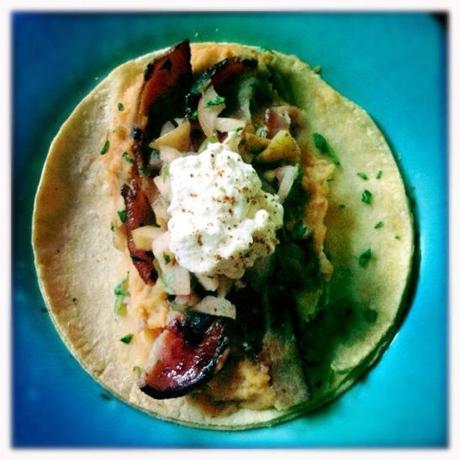 Today's recipe deviates from relatively healthy standards enforced at SABOR.  It's an indulgent combination of applewood smoked bacon, mashed sweet potatoes, pickled onions, and cilantro, topped with a generous scoop of chipotle-infused whipped cream.  It's not as good for you as a grilled chicken salad or a glass of water, but it's not as bad for you as a slice of cheesecake.  So give yourself a break and live a little.  You won't regret it.  (But your waistline might).
Smoked Bacon Tacos (serves 3)
12 corn tortillas
1 pound applewood smoked bacon
1/4 cup brown sugar
2 cups chipotle mashed sweet potatoes (recipe below)
1 cup pickled onions
1/2 cup chipotle whipped cream (recipe below)
1/4 cup chopped cilantro
Directions:  Heat a large saute pan to medium-high.  Fry bacon for 2-3 minutes on each side, sprinkling evenly with brown sugar.  Remove from heat and set aside.  Warm the tortillas and top with bacon, sweet potatoes, onions, and whipped cream.  Garnish with cilantro.
Chipotle Mashed Sweet Potatoes
1 pound sweet potatoes
2 tbsp butter
1/2 cup coconut milk
1 tbsp lime juice
1 chipotle in adobo sauce, minced
1/2 tsp salt
Directions: Fill a large pot with water. Bring to a boil and add sweet potatoes, cooking until tender (15-20 minutes). Remove from heat and peel skins. In a large bowl, mix the sweet potato with remaining ingredients.
Chipotle Whipped Cream
1 cup heavy cream
1/2 chipotle in adobo sauce, minced
2 tbsp honey
Directions: Combine all ingredients in a medium bowl. Using a whisk, beat the mixture until stiff peaks form (2-3 minutes).