The Livorno player collapsed on the field against Pescara on Saturday and never recovered, plunging football around the world into mourning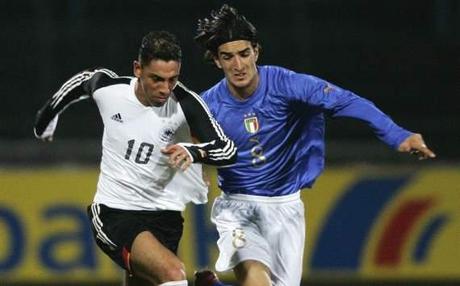 Saturday was meant to be just another day in the Italian football calendar, but instead it became one of the most distressing the game in the 
bel paese
 has ever experienced.While two Serie A fixtures were scheduled for the evening, eight more from Serie B had been selected for afternoon kick-offs. At 15.00CET, 176 footballers went about their weekly job of delivering a result for their fans, but within two hours, one of them was tragically taken away.
Piermario Morosini was no different to many Italian youngsters growing up in Bergamo, where he was born on July 5, 1986, in that he did so harbouring the desire to become a professional footballer. He was lucky in that his talent would help him to achieve his dream, but was unlucky in the backdrop of personal tragedy against which he would battle his way to the top. Having lost both parents when he was young, his younger brother recently committed suicide and he leaves behind two handicapped siblings. But it was from them that he gained his drive.
A hard-working, tough, mobile, intelligent midfielder, he spent 10 years in the youth system of his local club Atalanta – winning a Scudetto at Allievi level – before being taken up on a co-ownership deal by Udinese, where he would make his Serie A debut.
Having appeared for the Zebrette in a Uefa Cup round of 16 clash versus Levski Sofia, the midfielder continued to climb his way up the Italian national youth structure while spending loan spells at Serie B sides Bologna and Vicenza. Having represented his country at every level from Under-17 up, he would finish with 18 caps for the U21 side, with whom he traveled to the 2009 European Championship in Sweden, appearing in the narrow semi-final defeat to eventual winners Germany as a replacement for the suspended Claudio Marchisio.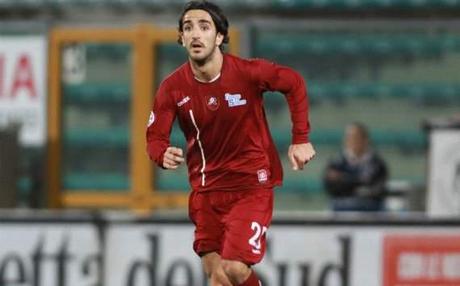 In recent years he had struggled to make an impression at Udinese, instead spending further time out on loan with Reggina, Padova and again with Vicenza before, in January, Livorno picked him up until the end of the season. It was for the Amaranto that he made his 150th club appearance against Padova last week, but little did anyone know at the time that it would be the last match he would ever complete.
His collapse on the Stadio Adriatico pitch in the 33rd minute of Livorno's clash with Pescara started as a harrowing reminder of recent events surrounding Bolton's Fabrice Muamba and Sergio Granero of Puerta Bonita, but Morosini wasn't to be as fortunate. He was pronounced dead shortly before 16.45CET, with the ambulance having been blocked on its way into the ground by a stationary police car which wasted a minute in the recovery battle. Doctors insisted that it would have made no difference. After he suffered three cardiac arrests in quick succession, there was no chance of them keeping him alive.
Tributes immediately began pouring in, with friends, colleagues and former employers all rushing to pay their respects for a man who had made a significant mark on those around him. He was a "great professional" according to Udinese president Giampaolo Pozzo, while former Azzurrini team-mate and current Italy star Marchisio called him an "amazing guy".
Morosini was an unspectacular player, it is fair to say, but was a key figure at every side he represented. He left friends behind with every club he departed, however short-term his spell. His life may have been short, but he didn't let circumstances stop him living it, fulfilling his talent right down to his final moments.
But to be left referring to a 25-year-old in the past tense is nothing less than a tragedy. Whether a footballer, a builder or a butcher, for anybody to lose their life so young is incomprehensible, and many are already asking the same question that was uttered after the deaths of the likes of Marc Vivien Foe, Antonio Puerta and Daniel Jarque. Why are young men in the prime of life and at their physical peak dying on football fields?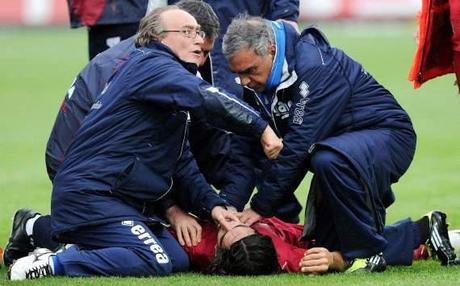 Morosini collapses |  
Doctors and medical staff did everything possible to revive himThis is not motorsports, or boxing, or any other activity in which there is a significant element of risk. Injuries are widely accepted as the worst thing that can happen to a footballer out on the field, but over the last decade there has been a noticeable rise in the number of players leaving the dressing room shortly before kick-off and never making it back.
A top Italian cardiologist explained to 
Goal.com 
yesterday that there is a serious concern over a lack of monitoring being performed on players. That this remains an issue despite the deaths and other collapses witnessed in recent times is a scandal. At a time when players are asked more than ever before to push their bodies to great lengths in a bid to sustain peak fitness, such blatant neglect should not be tolerated.
Morosini left a great impact on those who knew him. His name will be remembered by fans of the clubs he represented for the great effort he put in every week. But his legacy to the game must be the realisation that football needs to change for the better. There is no guarantee that more adequate testing would have saved Morosini, but there is clearly an issue to be addressed, and there will always be the fear that not enough was done in this case.
Players at every level of the sport, in every single country in the world, must be given regular physical examinations. It is enough that footballers go onto the pitch to risk their livelihoods, they must not be left to risk their lives too.
Every possible measure must be taken to avoid a repeat of what happened on Saturday. There had already been too many occurrences and now one more has been added, it is time for action to be taken. Fifa, as the world's governing body, must drive forward with an initiative in this regard. It is the least they owe Piermario Morosini.