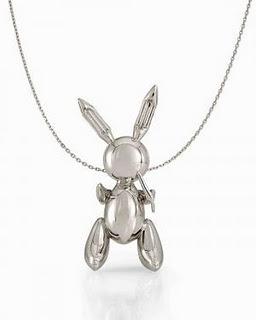 Jeff Koons, Rabbit Necklace (2005-2009), Image courtesy MAD, NYC
A little while ago I was asked by the
Art Jewelry Forum
 (AJF) to write a review of "Picasso to Koons: The Artist As Jeweler" an exhibition at the Museum of Arts and Design in New York.
The show was a great lesson on artist designed jewelry and since the show has now closed, I highly recommend purchasing the catalog. I think the importance of a show like this is not to go expecting to love everything you see but to go expecting to have a conversation, even with yourself, about what you are looking at and acknowledge that while it may not all be in your taste, it is nonetheless an important body of work.   
You can read my full review
here
.
The AJF's newly redesigned website is a wonderful tool for anyone interested in contemporary jewelry, not only does it present new artists but it also takes one on a behind-the-scenes tour of great public and private jewelry collections from around the world.