I have many men in my life. Unlike most could think I am not exactly

(not to say absolutely not)

a men seducer, but I admit having many men that are important in my life because they make my heart beat. Last week I introduced you to

Lougè Delcy

, a dapper blogger and photographer who happens to surround himself with dapper men. And one of them is

Benjamin Rosser

whom he interviewed

here

. But don't mistunderstand me, despite Benjamin cuteness what made my heart beat are his photographs and his perception of photography hence the following picture.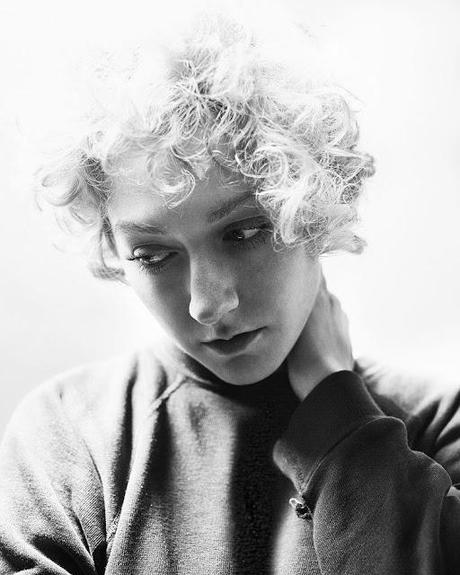 Photographer : Benjamin Rosser or Ben Rosser 
Benjamin site :
www.benrosser.com
Why Benjamin Rosser ?
"
My earliest memory of taking a photograph was in Yellowstone National Park during the summer of 2000, a month before my tenth birthday. I had been walking around our campsite carrying my mothers Canon AE-1 film camera for an hour or so. I remember looking up the hillside of burnt and leafless trees in front me and feeling my heart beat a little faster at the thought of capturing this weird landscape. That moment was probably the last time I ever actually enjoyed photographing a landscape. I find overwhelming joy in capturing people, and have never understood the act of landscape photography. But that feeling of excitement I had felt in that moment has carried over to my portrait photography ever since."   
It was probably this answer that made my heart beat. To tell you the truth I was both enticed and dumbfounded by his words. And I am still flabbergasted, after all his site has (very few)  beautiful landscape pictures  and yet he is saying he doesn't understand the act of landscape photography. 
Usually, although you only see one picture here, I meticulously visit the site of the photographer I will feature to make me an idea of the universe I am diving in. And thank God I always do it because it definitely helps me better understand (at least I hope so) a photographer's aesthetic.  Since Lougè asked Ben about his trip to India and justly posted some of  his pictures when there, I first focused on them. Doing so, a thought hit my mind. Landscapes, I was  still obssessed by his vision of landscape photography. While he didn't take many pictures of landscapes when in India, I was struck by how he took advantage of the scenery to give more depth to the people he captured through his lense.
Up until a day ago, I was convinced I would show you a picture of his journey to India, but  the more I was thinking about his shots as a whole the more I felt I should post one of his portrait.

What I am seeing. Yesterday I posted on my Facebook page another portrait by Benjamin, on which one of my precious reader said : "a "knockout" of classicism (and thus timelessness) that absolutely has nothing to do with austerity." Reading this sentence I got a kind of "Eureka" moment. Benjamin describes his feeling of photographing people as an "overwhelming joy". And if there is a genre in photography which consists in capturing people and is timeless it is definitely portrait photography, therefore today's choice.
I just found today's picture to be so very gentle. I like how the girl is delicately touching her neck and looking away. It is as if the camera didn't exist and just captured her while she was daydreaming. The white luminous background is spurring us to focus our attention on her face AND her hair. Again if not for the background her cherubic blond curls wouldn't have this almost blinding effect that directly make us pay attention to her glance. But whilst everything evokes gentleness in this picture there's one element of roughness : her sweater. Its fabric seems to be scratchy and if you notice well on the sleeve it is possible to see a small hole. 
I like this kind of contrast, I bet Benjamin didn't use B&W by pure case. Like this type of film accentuates the dramatic effect of a picture it also adds depth to the details. The model's  shimmering blonde hair, curls, pose and glance recall of a certain era that has vanished. Yet this shot doesn't have any vintage vibe, and I appreciate it even more for that. Instead there's a feeling of timelessness that makes you wonder to which era this picture belongs to. It could be ours like it couldn't be, that's what make this picture and portrait photography an art. 
But now, that I am writing this post, I seriously consider doing some research on landscape photography just to see if I'll be such a chatterbox ! Humans are interesting because of their expressions and personalities, thus I would be curious to know if I would be able to put words on landscape pictures that are just not "ouah what a nice view !" 
Your opinion about Ben and photography ? What are you feeling in front of such a picture ?