The news get ready to make night time your prime time… take your anti-aging routine to a previously unattainable level and reset the age of your skin. introducing miracle worker overnight age-resetting anti-wrinkle moisturizer from philosophy – the first to and help reset the age of your skin, making it appear years younger in just weeks. the story philosophy's best-selling, standout collection, miracle worker, now welcomes miracle worker overnight age- resetting anti-wrinkle moisturizer. its unique formula works in harmony with skin's overnight rejuvenation cycles to optimise natural repair. the result is skin that is deeply hydrated, healthier-looking and silky soft. in 4 weeks, fine lines will no longer see the light of day* and in 8 weeks even stubborn wrinkles will be left in the dark*.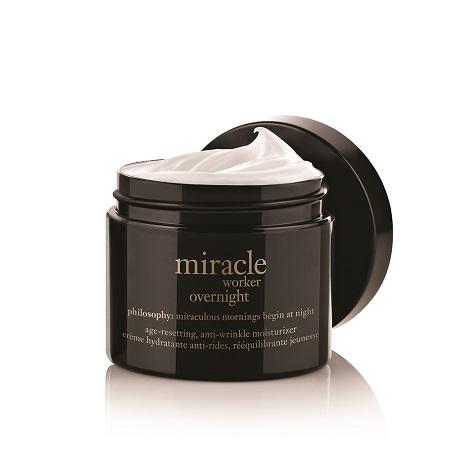 Philosophy miracle worker overnight
It's the perfect start to a miraculous morning. the proof: a missing link uncovered breakthrough scientific research uncovered a missing link in our understanding of chronological skin aging and provides evidence that age-accelerating proteins are one of the key causes of wrinkles. new research shows that as we age, our skin accumulates increasing amounts of age-accelerating proteins, known as progerin. aging has been primarily associated with sun exposure, pollution and stress, commonly known as environmental aging. while we can protect our skin from these factors and even correct some of the damage they create, we now know that this is only part of the causes of skin aging. the production of progerin directly contributes to the natural aging process of cells (chronological aging) and the accumulation of these age-accelerating proteins causes defects in the walls of the cell's nucleus. as a result, cell structure is compromised, its energy is depleted and the ability to replicate and renew is affected, resulting in signs of aging skin.
Philosophy miracle worker overnight
Philosophy miracle worker overnight helps to regulate levels of age-accelerating proteins, thereby working to dramatically reduce visible signs of aging. miracle worker overnight age-resetting ingredients: • our unique age-resetting complex contains a rare marine algae extract to help target progerin and trigger their self-destruction • powerful peptides work together with Vitamin C to help support natural collagen • proven hydrators lock in moisture while you sleep, giving new meaning to the word miracle miracle worker overnight RRP $80 is available from 24th August 2014 at selected david jones stores, davidjones.com.au, mecca maxima, meccacosmetica.com.au, skincarestore.com.au and adorebeauty.com.au. for stockists please call 1800 812 663.