~  PHILOSOPHY  ~
Ultimate Miracle Worker
Skincare Range!
http://www.philosophyskincare.com.au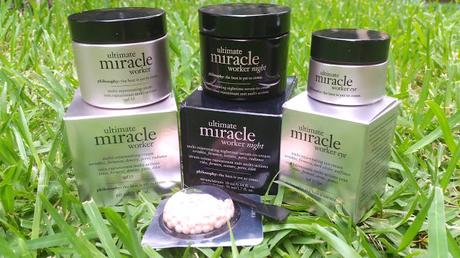 Ultimate Miracle Worker Day CreamI had heard about philosophy as a brand and their products quite a bit over the past few years and as a beauty blogger have read a lot of reviews and heard a lot of positive thoughts and opinions about their products. However never got around to trying them as I usually just stick to the cheaper brands within my strict budget. However since having the opportunity to test out the new Ultimate Miracle Worker skincare range over the past 3 weeks with Beautyheaven I can see why these products have a premium price tag! The quality, results and luxury elegance of each specially formulated jar is extremely rich and worth every single application!
The day cream which contains an SPF 15 is gorgeously scented lightly with only the tiniest hint of an SPF related smell. It is white in appearance and medium thick. I found the multi-rejuvenating cream easy to quickly work into my skin each morning before applying makeup a minute or two after. This absorbs right in and doesn't leave my skin feeling as though the product is just sitting on the surface. It gives more of a softer feeling and healthy fresh, youthful glow.
The 60ml silver glass jar has a black screw top lid which is easy to open and closes securely. I have found the product has remained fresh and unchanged in color or appearance and consistency over the trial period with the scent remaining the same.
In terms of seeing results of firmer skin, reduced pore size, more hydrated skin and fewer wrinkles. I can say my 'normal' skin does seem to be firmer and definitely more hydrated. I can feel a difference in the softness around my cheeks and neck. Overall my skin is looking and behaving amazing well since the beginning of using this product with zero pimples and blackheads which usually pop up every now and again on my skin. So I am thinking my pores may be slightly reduced in size aiding in the zero acne issue! I am 32 and don't have many winkles thankfully. Just a few small crows feet on the corner of my eyes. These seem to be reduced quite a bit as I have been using this product in conjunction with the Ultimate Miracle Worker Eye. (RRP $88.00)
Overall would highly recommend this product, brand and product range. It has worked for me!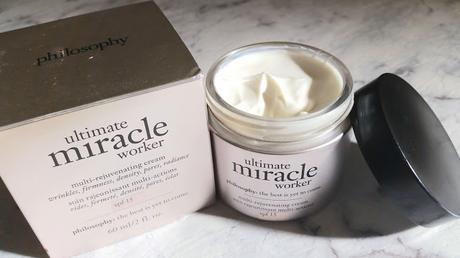 -Ultimate Miracle Worker EyeUsing philosophy's Ultimate Miracle Worker Eye along with the Ultimate Miracle Worker Day with SPF and Worker Night from the same range I have come to really enjoy and appreciate the results of using an eye cream in my skincare routine again as I have not done this is quite some time!
This 15ml round silver glass jar appears as a mini version of it's big sister the Ultimate Miracle Worker Day Cream. The cream however has a slightly more of an off white, cream tint to it that the whiter Day Cream. This has all you could ask for in a eye cream. From patented Bi-Retinol and Iris plant extracts to rejuvenate the skin on the surface. To the classic Caffeine and Vitamin C to aid in the skin's puffiness and dark circles under the eyes. 
The cream is much the same consistency as the day cream being medium thick and absorbing in the same amount of time. (1-2 minutes max!)
Luckily my eyes only have a few little crows feet and don't often get puffy unless I wake up in the morning after only a few hours sleep which does happen from time to time with 2 toddlers. I don't have any dark circles so cannot comment on the effectiveness in that respect from this product. However my fine lines and overall eye area does appear much more as it did in my more youthful 20's. My fine lines are reduced so I am hopeful with continued future consistent use and sensible sun exposure my crows feet may become a distant memory. One can hope! :)
Overall I am very happy with this product. As with only needing the tiniest amount (l only needed HALF a pea size amount) per application I feel like this product is going to last me quite some time and in that regard in conjunction with seeing some pretty amazing results since the beginning of use three weeks ago, I can see how this warrants the scary price tag! (RRP $75.00)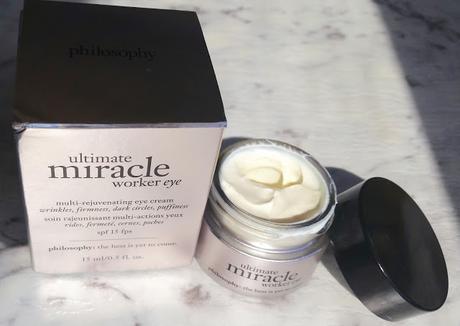 -

Ultimate Miracle Worker Night

Using this product along with the other's from the Ultimate Miracle Worker skincare range has been a lot of fun for me especially when it came to initially trying this Worker Night for the first time! philosophy have well thought out this product. Giving us a stronger unique night cream by combining the benefits of a rich night cream along with the anti aging properties a facial serum gives. 
To blend these two together philosophy gets us as consumers involved in the final process. In the box you find not only your 50ml black glass jar, additionally you will find a 10ml sealed packet of baby pink wet peals ready to be mixed in together with the small black spatula provided. This was one of my most favorite steps within the process of using this product.
Once mixed together the two ingredients blend together to form one power punching night cream! The pearls dissolve quite quickly and once done you can rest assured you are applying a fresh a batch of night cream as you'll ever get! 
The scent of this is only light and is almost identically smelling as the Ultimate Miracle Day and Eye creams. I was surprised to find unlike most night creams I have ever used, the consistency within this jar was nowhere as thick as I was expecting as I am so used to night creams being thick. However this was more runny, even more so than the Day and Eye cream from this range. I don't believe this had anything negative to do with the formulation though as I have actually had amazing results using this whole trio of products.
I found this cream to absorb into my skin even more rapidly than the day and eye cream and felt the same soft, moisturised feeling left upon my skin. My skin is firmer, particularly round my eyes, neck and cheeks. Being in my early 30's I know my youthful appearance is only going to last so long and the clock is ticking loud and fast! Since seeing such satisfying and rapid results with these products I can't see myself turing back now and will continue to use these products to help maintain and improve my skin even further. (RRP $110.00)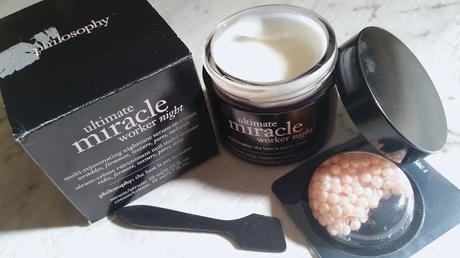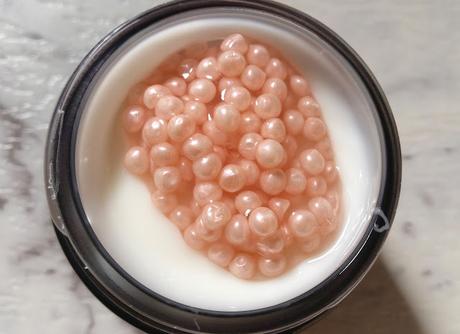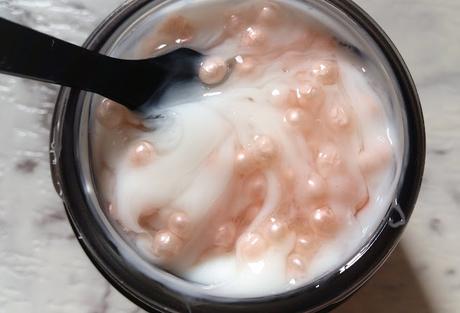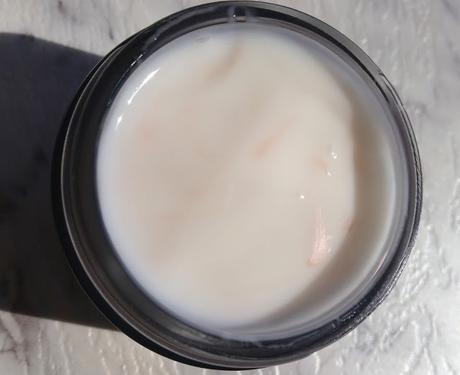 Have you tried any products from the Philosophy range?



Missed my last posts?Match Perfection Makeup! | Newa Anti-Ageing! | Magnif'Eyes Cream Shadow Pens!


NEW! From Rimmel London! | Schkinny Maninny Detox! | Vitamin C24 


Related Posts!
Coast To Coast Skincare! | Paula's Choice Skincare Routine!Perfume Collection! | Room Tour! | Adore Beauty Haul! | My Makeup Collection!
Let's follow each other! Facebook | Twitter | Youtube | Instagram | Pinterest | Bloglovin' | Google+

*These products were kindly sent to me for review for the Beautyheaven Trial Team
*All photographs & video are my own work & my o
pinions are all 100% honest & all my own