…And what is that exactly?! That my friends is a coffee machine. If you read December's eBay watch list (which you bloody should have) you'll know that I was contemplating getting myself a cheap coffee machine – well I'm pleased to announce that I have done so, it's arrived, and I am extremely caffeinated. I'm 85% caffieine at this point. Seriously, I'm shaking. SHAKING WITH GLEE.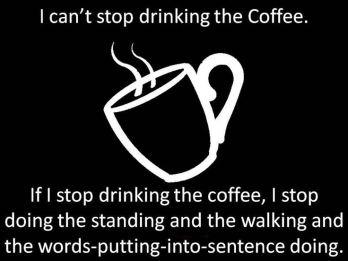 I didn't buy the one that I had on my watch list as I had never heard of VonShef… but then I hadn't heard of Philips Saeco either. I found this particular machine on the Tesco Direct website for £140, but before you have a hissy – it was on sale for £65! That's a beautiful saving of £75 right there mateys. It's still available too, you can buy it
here
. (not spon or affiliate, just bloody friendly!)
Description
For all your basic coffee requirements, this Philips Saeco HD8323/38 coffee machine is ideal. With a 1 liter capacity and a single speed setting, the black Philips Saeco coffee machine makes beverages in a flash, time after time. A ground coffee measuring scoop, ground coffee filter, pod filter adapter and coffee pod filter are included. Made from plastic, the Philips Saeco HD8323/38 is easy to clean. A user manual and warranty leaflet comes with the machine. It is dishwasher safe.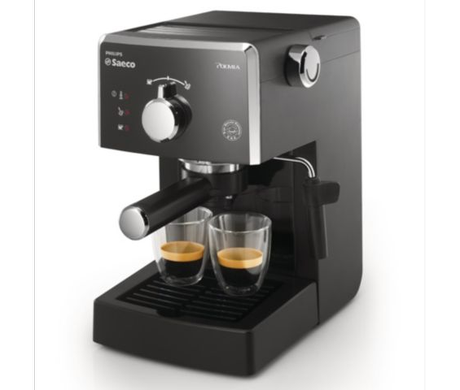 I've stolen/borrowed the image above from Tesco's website as mine has fingerprints all over it that show up on camera, and that bugs me beyond belief. It comes as you see it in the picture, but without the espresso glasses.
I was trying to think of the perfect way to describe this machine, and I think I've found it – it's alright.
Yep, it's alright. Because I've worked with the big industrial machines in previous jobs, that's what I'm used to. I'm not saying it's what I expected, but it frustrates me that I can't get perfectly steamed/frothed milk like I used to. It may just be that I have to get used to the wand!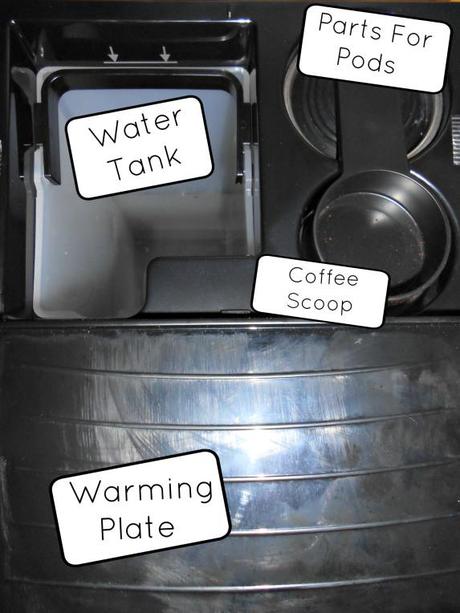 As you can see there's a warming plate, which is obviously designed to warm your cups… meh. And then if you take the cover off the back you have the water tank, coffee scoop and pod parts. When I say pod parts I mean the adapter and filter that you can swap the ground coffee filter for so that you can use coffee pods. You can see in the photo below that there's a little ridge so you can pop the filter out to switch them.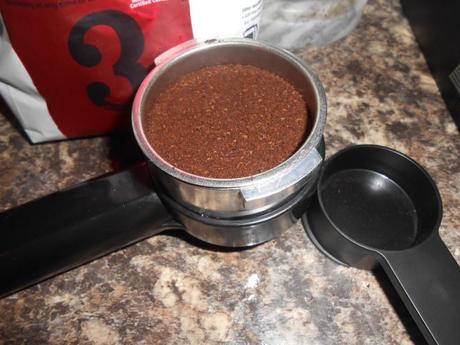 Honestly, it's not a bad little machine – especially for the price! I wanted it to make coffee and I can indeed make coffee. It's easy to use and it's quite small so it doesn't take up a crap ton of counter space.
There are just two flaws in my opinion…
1) I haven't perfected steaming my milk. It's too frothy! I honestly don't know why it's doing this, but the majority of the milk turns to froth. I have ordered a metal steaming jug but it hasn't arrived yet, so I've been using a pyrex jug! It could be due to the jug, but I doubt it. I've also tried both soy and dairy milk and it doesn't seem to make a difference! I'm sure I'll work it out in time.
2) This one actually bugs me quite a lot. The machine is rather petite, which is fine… BUT MY MUGS ARE 1/2 INCH TOO TALL TO FIT UNDER THE COFFEE DISPENSING THING. And so, I've resorted to this…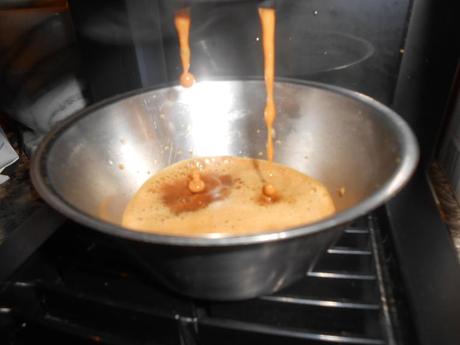 I have this problem with the steam spout too. I have to kind of turn the machine so the spout is hanging over the edge of the counter or there's no way I'd be able to move my jug away from the spout without spilling any milk. Still, there's no point crying over it right? I only really fill my mug half way with milk anyway, the rest is coffee and this baby…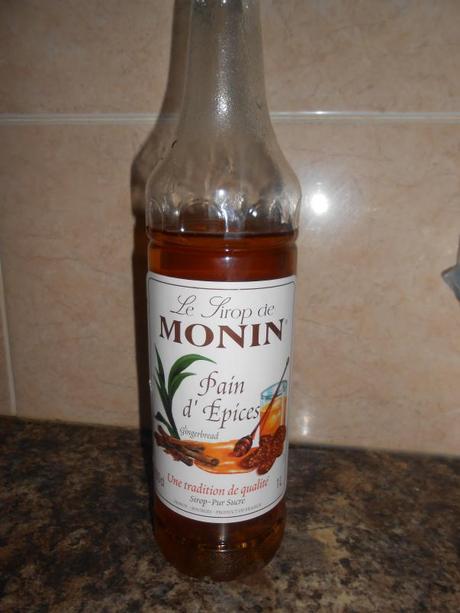 I've had the machine for three days and I've used that much syrup already. I'm not even sorry. The syrup was a bargin too – £9.99 for a liter from eBay when Costa sell it for £14.95!
Do you have a coffee machine at home? How many cups do you find yourself having a day? Let me know! I'm off to get another coffee!