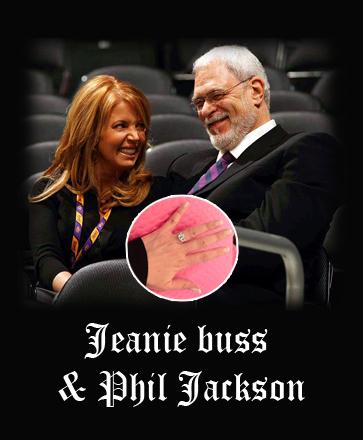 Finally after dating for more than a decade, NBA coaching legend, Phil Jackson & Jeanie Buss announce their engagement on Thursday evening. Jeanie Buss, the Vice President of Business Operations for the Lakers also tweeted a photograph revealing the glamorous diamond ring, Jackson gifted to his lady love. The duo is said to be dating since 2001, have been together throughout his two tenures with the Lakers, during which he coached the team to five championships.
Phil Jackson, 67, is a retired American professional basketball coach & a former player. "The Zen Master" is said to have been married twice before & has five children from his former marriages. When enquired about his relationship with Buss, Jackson would nickname her as "Companion". Jeanie Buss, 51, is the daughter of Los Angeles Lakers owner, Jerry Buss. She was previously married to pro volley ball star Steve Timmons in the 80's.
Buss joy knew no bounds, twitted to the masses, "Twitter Family- Phil finally gave me that ring, I wanted" "I am beyond happy"! Moreover, she posted a pic revealing the shimmering stone- An Emerald-cut diamond ring flanked by two small emerald- cut diamonds.
Sources reveal that Jeanie always wanted to get married, but Phil never displayed any signs of getting married again, after being divorced twice. Jeanie is indeed happy with her elongated & successful relationship & the two get along each other very well.
Buss even twitted proving reference to the 11 NBA championship rings; Jackson had won in his successful career as a coach for the Chicago bulls & LA Lakers. Summating to the conspiracy to the apparent engagement, Jackson proposal came in a short interval after the Lakers chose to hire  Mike D' Antoni  as their coach head, about two months ago. Although, didn't let his feelings hamper him to look forward to the proposal.
In the end, Buss expresses concern regarding her relationship with five grown children & seven grandchildren. Congratulations to the duo on the impending nuptials!