It was day two and the ferry which would bring me to my next destination had slowly left Krabi pier. Yup, the next agenda was visiting Phi-phi island, one of Thailand must visit island. This island began to hit its peak popularity when Leonardo Dicaprio and the Beach movie crews took some scene there. I didn't remember which scene it was, but some said that the Island is worth a visit for it wonderful scenery.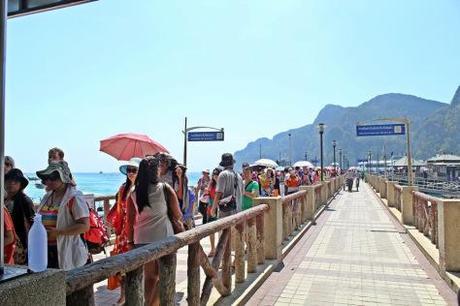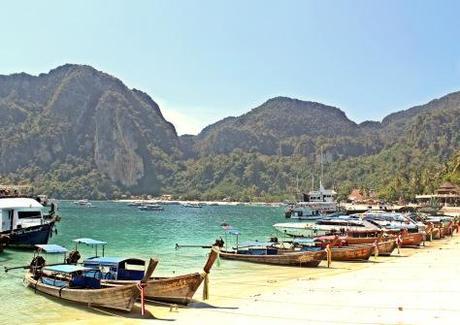 When arrived at Phi-phi pier, I was greeted by some people showing boards with different home stay names on it. Thanks God, the home stay name which I booked by online was there too. Therefore I didn't need to look around searching for it by my self and then getting lost.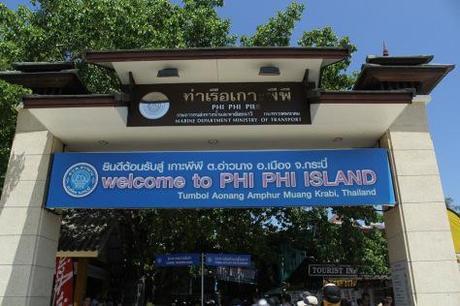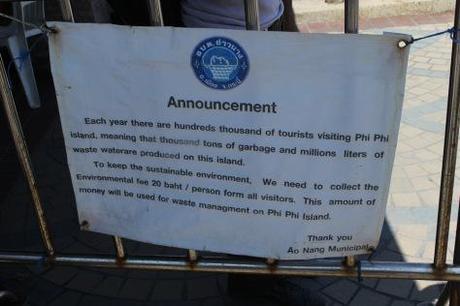 The guy then took my backpack and led the way. And again, I was thanking God for meeting this guy. The pathway in this island were way way too much and yet complicated. We walked straight then turned left, turned right again, then turned left again, then walked straight, and then my short term memory lost was recurrent–I could not remember all the direction, and suddenly we arrived at the home stay.
After taking rest a while and waiting for the sun didn't really shine so rough, I got out and took a little city tour. Phi-phi island is like a small village with the melting pot of traveler around the world as its citizen. Cafe, restaurant, mini market, hospital, drugstore, clinic, you can find almost all daily need facilities here. Hundreds of pedestrian were passing by, dropping by, chitchatting every where. Travelers from different nations blended as if they had known each other for years, meanwhile they might just meet up couple minutes ago.
While passing through an alley, I saw a board sign "View Point" and its direction. Quite tempting, it might be the best spot to enjoy the best view of this island. I tried to follow the direction and found towering stairs in a narrow alley.
Damned! I hate countless stairs and all climbing things! Felt a little forced, I climbed the stairs one by one,  while hoping that the stairs would end soon and the view is worth every struggle I had made. After almost half an hour of climbing and my breath started to wheeze, I arrived at the view point.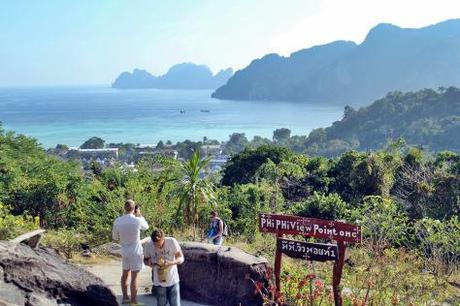 I stood at the edge, enjoying the view and looked at a board which says "Phi-Phi View Point One" I then remained silent. View point one? Hold on sec… Not far from the View Point 1 board, I saw another signage.
"View Point two is few minutes to go"
Sort of that, I don't really remember the exact sentence. But who cares about the exact sign. No matter how it's announced,  it got me headache, indeed. I mean, another climbing to go?? My feet haven't even been recovered from soreness yet, sigh…
However, I considered two things… First, I had been in the middle of journey and the view might be more incredible up there. And second, hey, I've been to the worst climbing ever during my life in Wayag, Raja Ampat. It's just climbing stairs while in Wayag I did climb rocky sharp yet sometimes slippery lime stones island. What was worse than that?
Hence, I made up my mind and continued the trekking. Although it was no longer stairs, I still had to go through the uphill pathway and, once in a while, I had to catch the breath. Some other tourist walked ahead of me also remained silent, kept leaving their footprint without talking to each other. Seemed like they preferred to save their energy while expecting that the track would end soon.
And voila, in a few minutes  (if they mean fifteen to twenty minutes is also a few minutes), I could see some people up there standing and starring at the distance. Thanks God, finally I made it…