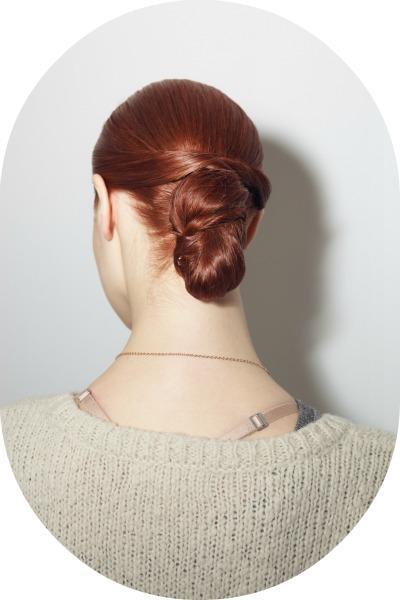 The Collection:
Peter Som Fall 2013 is all about the crazy-quilt eclectic mash-up of early eighties NYC downtowners photographed by Amy Arbus, mixed with the romance of Paris. Taking inspiration from two of his favorite cities, Peter weaves a patchwork of patterns, textures and colors in each piece of clothing. This represents the hard-edged vintage boldness of downtown NYC with the love affair that is Paris.
The Look:
For Peter Som's Fall 2013 collection, the beauty inspiration is very strong, yet minimal. The woman who embodies this spirit and wears these clothes makes a sophisticated, bold statement and pays attention to the image she portrays. Wella Professionals lead stylist and owner of The Doves salon, Christopher Dove collaborated with Peter Som to create a hair look that is in balance with the collection featuring high necklines, volume, and structure. The finished hair look is simple and sleek, creating a smaller head shape to complement the silhouette of the clothing.
"For Peter Som's Fall '13 collection, I was inspired by Wella's Echo trend, which is all about the introverted, emotional beauty. I felt that the hair look should not distract from the beautiful and intricate detail of the clothing. It needed to be simple, sleek, and elegant because that's the kind of woman who will wear this clothing, but also able to make a bold statement with minimalistic hair and make-up."


-
Christopher Dove, Wella Professionals Lead Stylist
Get the Look:
1.
Apply
Wella Professionals Velvet Amplifier
to towel dried hair, which primes hair for a smooth finish.
2.
Blow-dry hair straight until completely dry to create a healthy canvas for styling.
3.
Separate hair in a straight line part either in the center or a deep side part depending on the direction of natural hair growth.
4.
Section hair in the back by pulling the back half of the hair into a tight low ponytail at the nape of the neck.
5.
Apply a working hairspray like
Wella Professionals Stay Essential Finishing Spray
to the surface and use a finishing brush to smooth the surface of hair so there are no bumps.
6. 
Twist the ponytail around like a rope and then around the base to create a knotted bun that's secured into place with hairpins.
7.
The two pieces in the front of the head and each side needs to be twisted in the direction toward the head and then wrapped around the bun before securing in place, making sure to hide the pin keeping the two pieces in place.
8.
To keep the hair really slick and free of flyaways and frizz, rub a small amount of Wella Professionals Sculpt Force Flubber Gel in fingertips and then apply to the surface, smoothing down the hair near the part and face framing pieces.
9.
For a high-gloss finish, spray about 3-5 pumps of Wella Professionals Shimmer Delight Shine Spray all around the hair.