I can't believe its been a month since my last post on the Hurtled to 60 blog.   Writing is habit forming and once out of the habit, there is a fear that writing a blog will fade into the past, I don't want that to happen so I must get my act together.
A couple of weeks ago I went with a friend on a long weekend to Somerset to do a spot of garden visiting. He particularly wanted to visit the Pete Oudolf garden at the Hauser & Wirth art gallery in Bruton, a pretty village and unusual place to find a modern art gallery with a naturalistic garden of grasses and tall perennials.
I had mixed feelings about the garden which is entered via the art gallery.   My opinion on what was on show as "art" is probably best kept to myself, save to say I am yet to understand how a LED scrolling text can be art, I see something like this every day at the train station and there is nothing artistic about looking at that.  It's all down to understanding conceptual art which is beyond me.
Back to the garden.   Unfortunately, the first impression was of the overwhelming cooking smells emanating from the restaurant kitchen.   The wind was clearly in the wrong direction and I overheard several people in the garden commenting on what smelled like barbeque steak.  A mouth watering aroma in the right place but not walking around a garden.
You are met at the entrance to the garden with a strange clock which has a very loud tick – slightly surreal!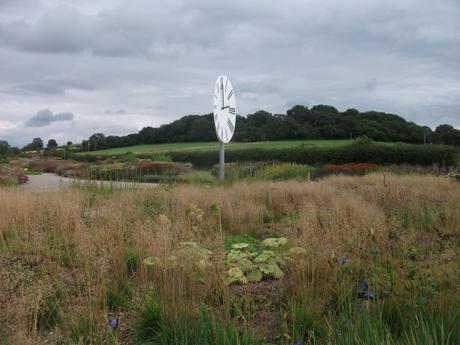 Pete Oudolf describes his style as romantic, spontaneous, organic and nostalgic.  He plants in clumps rather than drifts using tall perennials such as veronicastrum, sanguisorba, filipendula, cimicifuga, thalictrum, rudbeckia, eupatorium.  The prairie grasses are interplanted with Achillea 'Feuerland', Echinacea pallida 'Hula Dancer', Amsonia hubrichtii, Lythrum salicaria 'Swift' and the strawberries-and-cream Sedum 'Coral Reeves'.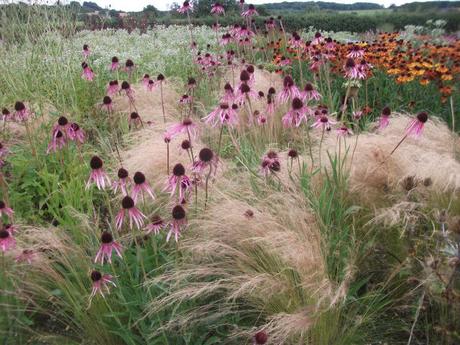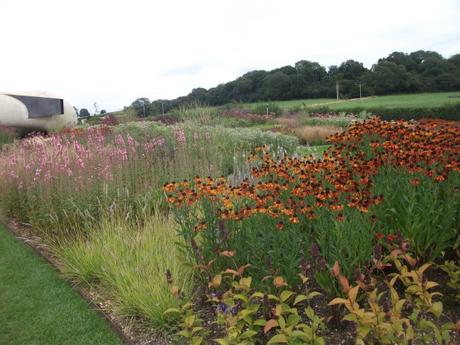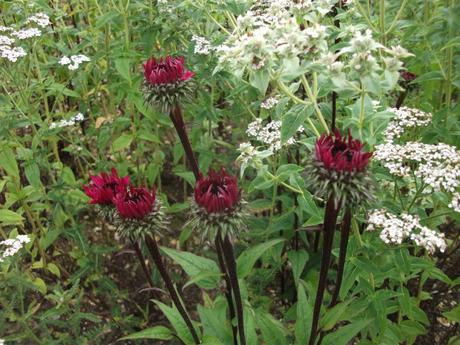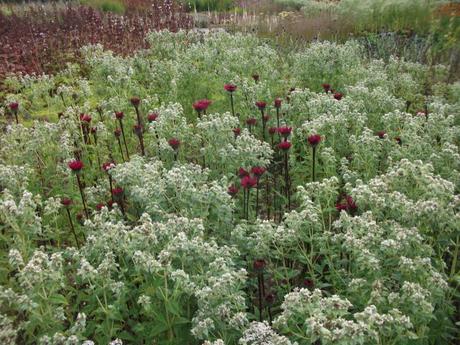 I prefer a garden where you can round corners and find something new and different, but this is a garden you can view in the whole.   Personally, I didn't think there was enough height, peoples heads were visible no matter where you where in the garden, but then I am not a garden designer and possibly have missed the point.  I did like the planting though and there was something quite tranquil  wandering around and watching the grasses waft in the wind around the Rudbekia and Echinacea.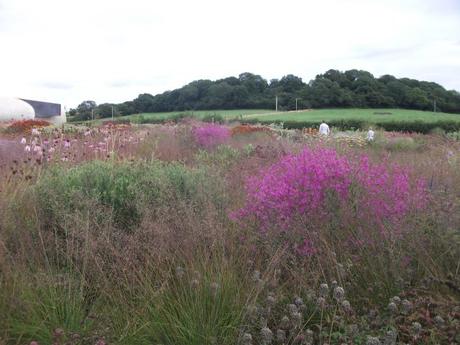 Along with not understanding the exhibitions in the gallery, I couldn't understand the monstrosity at the top of the garden,  It looked like a lost prop from the children's tv program 'In the Night Garden'.  Out of curiosity I went in to see if I could glean any idea as to what it was or why it was there and found tables, chairs and a bar and the strange black funnel thing turned out to be a window which does have a great view.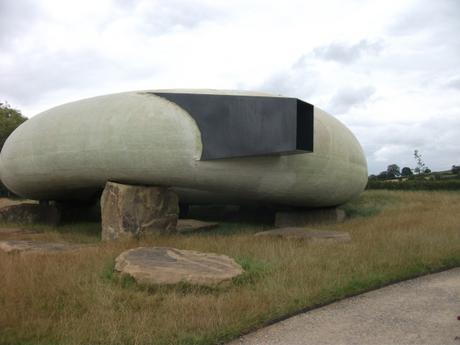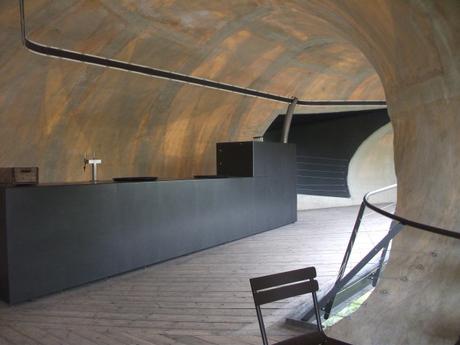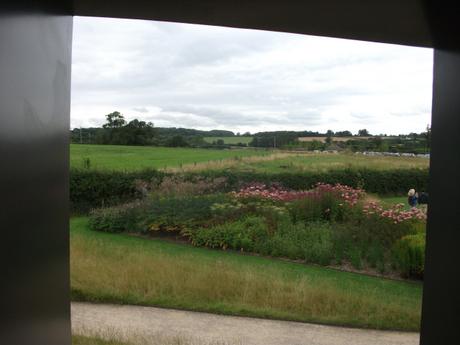 On balance I think I like this garden, I found it interesting and would be happy to go again.  I believe that a garden should be visited on several occasions at different times of the year before making a full judgment as to whether you like it or not.   I would recommend if you are in the area to pay the Pete Oudolf garden in Bruton a visit.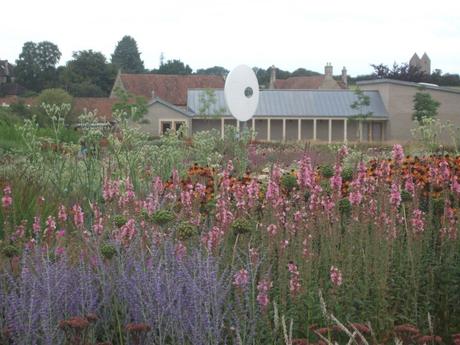 Website: http://www.hauserwirth.com
OPENING
HOURS
Hauser & Wirth Somerset is open Tuesday – Sunday (Closed Mondays except Bank Holidays)
Gallery & Garden:
10 am – 5 pm (March – October)
10 am – 4 pm (November – February)