Europe is supposed to have the best food in the world.  Supposed to – as in, the vast majority of powerful human beings say so.  We've been led to believe that the European continent sets the pace for global gastronomy, and that all other attempts at cuisine are to be conducted in its beautiful image.  We take the Michelin Guide more seriously than the Constitution; I've seen people cite its ratings with more fervor and conviction than a Catholic priest at an abortion rally.  Seriously.
And like any decent intellectual paradigm, this European hegemony is extremely subjective.  It's based on (arbitrary?) numbers that determine what qualifies as world-class cuisine and impeccable service.  These numbers are heavily based on what the Michelin Guide says, as it defends its undisputed title as the oldest and most powerful travel guide on the planet.  But why do we give so much credit to a stupid magazine?  Especially one that was started by a French auto mechanic over 100 years ago.  Yeah, that's right.  The world's foremost publication on fine dining was established by a greasy Frenchman who drank more gasoline than wine.  That's not just biased.  That's idiocracy.
Let's do the math.  According to Wikipedia, there are over 1600 Michelin-starred restaurants in Europe.  Over 500 of these are in France, which calls the bias issue back into question (I digress).  The rest of the world's Michelin-starred restaurants (around 800) are in the United States, Japan, and China.  I'm pretty sure that leaves out like, 150 countries or something.  That's not right.  Especially when a number of these Michelin restaurants are serving the cuisine of this underrepresented majority – Mexican, Thai, Indonesian – the list goes on.  Just because a billionaire doesn't want to invest in Guadalajara or Bangkok doesn't mean these places should be left out of the picture.  Quite the contrary.  We need a system that represents the that 72 percent.  Maybe we need an Occupy Michelin movement.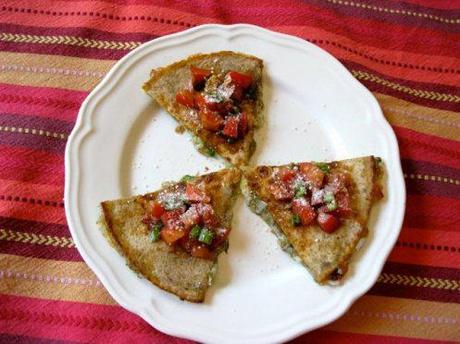 I went to Rome a few months ago expecting to find some of the best food in the world.  Because according to Michelin, Italy boasts 280 (or 12%) of the world's best restaurants.  I ended up eating decent food for an extravagant price.  Everything was good, but nothing was extraordinary.  Nothing was worth the status of "best in the world."  To be quite honest, I missed Mexican food the entire time I was in Europe.  I missed roasted chiles and ripe avocados and rich meats braised for 2 whole days.  I missed pure, unfiltered passion.
Today's recipe is an Italian twist on a Mexican classic.  It's my way of saying THANKS to Europe for all the wonderful experiences, for all the rich, Michelin-starred food that made me gain 10 pounds in 6 months.  But it's also my way of  saying NO THANKS, that I prefer my own damn cuisine and the freedom to wear t-shirts and ask for water refills.  Sorry Michelin.  I like real food, not car tires.
Ingredients:
1 whole wheat tortilla
1/4 cup shredded mozzarella cheese
2 tbsp. pesto
1 jalapeño, diced
1 green onion, diced
1 medium tomato, diced
1 tbsp extra-virgin olive oil
2 tbsp balsamic vinegar
2 tbsp parmesan cheese
Directions:  Place mozzarella on one half of the tortilla.  Sprinkle the jalapeño and green onion on top.  Spread pesto on the other half.  Fold one side over the other.  Heat a nonstick pan to medium high.  Grill quesadilla for 1-2 minutes on each side (or until crisp). Cut into wedges.  In a small bowl, combine the tomato, olive oil, and vinegar.  Pour on top of the quesadilla and sprinkle with parmesan cheese.  Buon appetito!