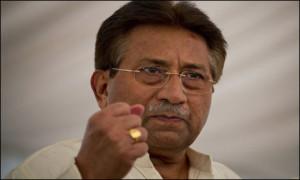 Former president, General (retd) Pervez Musharraf has been arrested in the Akbar Bugti murder case. He will be continued to kept at his farmhouse in Chak Shahzad which has been declared a sub-jail.
Earlier, five-member team of Balochistan Police interrogated Musharraf for about four hours after getting the permission from Anti-Terrorist Court (ATC).
The former military ruler has already been arrested in the judges' confinement case and the Benazir Bhutto murder case.